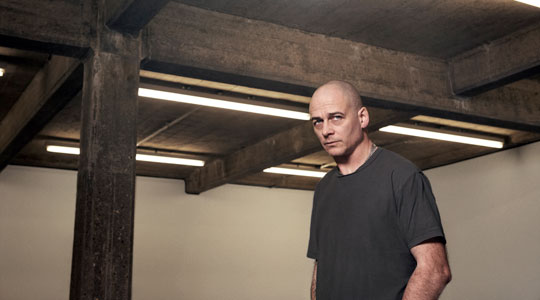 The third announcement nearly completes the 15th anniversary edition music programme. Individual tickets on sale now!
Moritz von Oswald Trio with Tony Allen and Max Loderbauer [INT]
Robert Henke [DE]
Dinos Chapman [UK]
Marcel Dettmann [DE]
Boddika [UK]
Samuel Kerridge [UK]
Fatima al Qadiri [US]
DJ Marfox [PT]
Hypnobeat [DE]
Recondite [DE]
Sylwia [PL]
Felix K [DE]
Moiré [UK]
Phill Niblock [US]
Eli Keszler [US]
Valerio Tricoli [IT]
Sven-Åke Johansson [SE]
Innode [AT]
Grumbling Fur [UK]
Sarah Farina [DE]
Maryanne Amacher Archives with Bill Dietz and Micah Silver [US]
Zinc & Copper Works [INT]
Soundwalk Collective with Lillevan [INT]
Anne Wellmer & Julia Eckhardt [NL/BE]
Phoebe Kiddo [AU/DE]
Full listings of the first wave and second wave of CTM 2014 artists, and their corresponding descriptions and audio samples remain available online.
CTM brings its Closing Concert to the Haus der Kulturen der Welt to celebrate its anniversary together with longtime partner transmediale, with whom CTM has worked to present one of the world's largest annual platforms for reflection on the cultural significance of new technologies and digital culture. Also the last of three collaborative CTM / transmediale concerts, the evening features frequent CTM collaborator Robert Henke, known for his peerless Monolake productions. Henke will close CTM's 15th edition with the German premiere of his stunning new sound and laser show, Lumière. An exploration of the syncronicity and divergence of light and darkness and of slow movements and sudden bursts of motion and noise, Lumière elevates Henke's expertise as he commands three powerful lasers to draw repeating shapes, ephemeral objects, and ultra short pulses of light in an improvised dialogue where shapes create sonic events and vice versa.
Fragile Territories in Nantes November 2012 from Robert Henke on Vimeo.
American minimalist composer Phill Niblock has been active in multimedia endeavours since the mid-60s. While often associated with American Minimal Music and its protagonists, such as La Monte Young, Terry Riley, Steve Reich, and Philip Glass, Niblock has remained a maverick presence on the fringes of the avant-garde, who has ventured further into profound reductionism than his contemporaries. This celebrated composer, who turned 80 this year, will present a selection of recent works that have not yet premiered in Berlin. Performing together with Niblock will be the 4-piece experimental brass ensemble Zinc & Copper Works, founded by microtonal tuba player Robin Hayward, who has collaborated with other notable pioneers such as Catherine Christer Hennix. Niblock will also perform with New York drummer and installation artist Eli Keszler.
Eli Keszler – L-Carrier from eli keszler on Vimeo.
Zinc & Copper Works / Phill Niblock disseminate / Labor Sonor from Daniel Costello on Vimeo.
A formidable creative force of the contemporary musical avant-garde, New York's Eli Keszler combines jarringly rhythmic, propulsive solo drumming with electroacoustics and raw materialism to craft intensely physical and ferociously energetic works. An installation artist and performer, Keszler works with piano strings to create vibrating installations ranging in scale from an average gallery space to enormous outdoor structures spanning skyscrapers or bridges. In addition to performing with celebrated minimalist Phill Niblock, Keszler will create a piano string installation specially designed for the HAU Hebbel am Ufer, to be integrated into his solo performance. Valerio Tricoli, an Italian instrumentalist and electronic musician long involved in musique concrète and free improv will perform with tape machines and electronics, and will also jam with Keszler.
Rounding-out the extensive showing of PAN label collaborators scattered throughout the CTM festival week is PAN collaborator Mat Dryhurst, curator, musician, and an editor of Avant magazine, who will lead a workshop on his Anonymonths experimental publishing concept within the CTM / transmediale collaborative programme at the Haus der Kulturen der Welt. Presented in collaboration with Avant magazine the workshop invites publicly-known artists, curators, and creative thinkers to anonymously contribute critiques and opinions on contemporary culture, creating a powerful opportunity to be critical, ask difficult questions, and break from consensus through a combination of invisibility and credibility.
For over 10 years, the Soundwalk Collective has recomposed field recordings into narrative journeys that are eclectic and visceral. The collective will present the German premiere of Killer Road, a sound exploration of Nico's tragic death while riding her bike on the island of Ibiza. A hypnotic meditation on the idea of perpetual motion and the cycle of life and death, the composition features the unique voice of Patti Smith whispering Nico's last poems, and a specially designed visual component by video and media artist Lillevan.
A radical composer, experimentalist, and sound scientist that pursued her own spirited and inspired musical path, Maryanne Amacher is known internationally for her dramatic architectural staging of music and sound. A student of Karlheinz Stockhausen in the 60s, member of legendary acoustic/electronic improvisational group Musica Elettronica Viva, and collaborator with John Cage and Merce Cunningham in the 70s and 80s, Amacher worked extensively with improvisation, site-specific spatialization of sound, and the physiological phenomenon called otoacoustic emission, in which the ears themselves act as aurally active generating devices. With her passing in 2009, and due to the fact that her works are notoriously difficult to reproduce, the challenge of how to keep the legacy of this unique artist alive represents an enormous task. The Maryanne Amacher Archives project was set up by friends Robert The and Micah Silver at Amacher's urging shortly before her death. An attempt to catalogue Amacher's work, the project is equally focused on finding ways to continue to be able to present the composer's works live and to inspire other creative minds to further develop her sphere of ideas. The current state of and future plans for the Amacher archives will be explored through a guest lecture led by artist and curator Micah Silver and musician and sound researcher Bill Dietz.
The previously-announced exploration of Finnish composer, designer, artist, scientist, and experimental filmmaker Erkki Kurenniemi, who in the 1970s developed revolutionary electronic music and the first digital synthesizers ever made, will be supplemented with a series of films by the artist himself, or that include soundtracks or other contributions by the idiosyncratic artist and inventor. A collaboration with the KIASMA Museum for Contemporary Art in Helsinki, the programme includes works by Erkki Kurenniemi, Finnish experimental filmmaker Eino Ruutsalo and Swedish composer and artist Ralph Lundsten, and is curated by Finnish film artist Mika Taanila, whose acclaimed Kurenniemi documentary "The Future is Not What it Used to Be" will also be shown.
THE FUTURE IS NOT WHAT IT USED TO BE (Mika Taanila, 2002) from Spectacle Theater on Vimeo.
As in previous editions, CTM and transmediale have once again co-curated this year's programme of audiovisual concerts at the Haus der Kulturen der Welt, interweaving both festival themes. Performances include the above-mentioned Closing Concert, for which Robert Henke premieres his Lumière laser show, and the German premiere of a new triple-screen live A/V project by Dinos Chapman, one half of the enfants terribles The Chapman Brothers, performing in support of his recent Luftbobler release inspired by insomnia, horror movies, and boredom. Duo Lucky Dragons premiere a new instalment of Actual Reality, a multimedia work that began with a simple Google search for the words "actual reality" and continues to develop over the course of several iterations, each version processing and re-synthesizing previous realities. This year's programme also includes a special workshop by PAN collaborator Mat Dryhurst, in collaboration with Avant Magazine (further info in PAN section, above).
Lucky Dragons: Actual Reality from EMPAC @ Rensselaer on Vimeo.
CTM's previously announced multi-day foray into the vast Editions Mego label universe is rounded out with Innode, a new project by synth and guitar player Stefan Németh (also known for his founding role in Radian) in collaboration with Steven Hess (of Pan.American fame), and Bernhard Breuer, better know to some as the drummer of Elektro Guzzi. Performing together with John Elliot's Outer Space, Innode will appear as a configuration of two for their CTM appearance, in which Németh's electronics join Breuer's drums in support of a recently released album, Gridshifter (Mego, 2013).
A major influence on the European free improv scene, drummer Sven-Åke Johansson has collaborated with musicians such as Alexander von Schlippenbach and Peter Brötzmann, with whom he forged a European variant of free jazz in the 60s. Johansson may also be considered a godfather of Berlin's echtzeitmusik scene, a community of musicians that continue to fashion their own unique variant of improvisational music and that includes Thomas Ankersmit, previously-announced to perform that same evening alongside Rashad Becker.
Sven-Åke Johansson: Filme I (teaser) from The Wire Magazine on Vimeo.
CTM's late-night programme swells with fresh confirmations, beginning with the Moritz von Oswald Trio, who will appear in a world premiere of a new configuration. Tony Allen, drummer and musical director of Fela Kuti's band from 1968 to 1979 and one of afrobeat's primary founders, replaces the trio's usual percussionist, Vladislav Delay. The trio is joined by Anne Wellmer and Julia Eckhardt, who will explore Berghain's cavernous halls with an architecturally-adapted composition for viola, feedback, laptop and light, which Anne Wellmer wrote as part of DoUndo/recycling G, a project that proposed the use of a monochrome viola-sound reservoir.
The following day, Samuel Kerridge, a recent Downwards label artist and founder of Berlin's Contort series, brings decimating kick drums and feedback to sculpt distortion into dripping, toxic techno the same evening as Hypnobeat, a project begun in 1983 by Peter Weiss and now reincarnated as a duo with Helena Hauff. Weiss, an active musician in Berlin's acid techno scene in the 80s, passed through releases on Perlon as Narcotic Syntax and DJed regularly as James Dean Brown before entering into live improv with Hauff. Berlin Current artist Recondite performs a 2-hour live set of dreamy, melancholic techno in a night that also includes already-announced artist, Beneath, as well as Felix K, who first stumbled into Berlin's music scene in the mid-90s via breaks and D&B and was recently featured in mixes on Blackest Ever Black. Sylwia, one half of Polish duo Sentel, will round out the night with a DJ set.
That same night over at Kantine, Daniel O'Sullivan (of groups such as Ulver and Aethenor) and Alexander Tucker (of Imbogodom) join together as Grumbling Fur to perform an avant-pop collage of eclectic instrumentation, shamanistic meta-narratives, and pulsating electronic sounds. Their 2013 release Glynnaestra (Thrill Jockey) garnered praise as one of the year's best albums from magazines such as The Quietus. Berlin Current artist Phoebe Kiddo opens the night with syncopated rhythms, dark atmospherics, and copious sub-bass to attempt to explore a sophisticated take on pop music.
Joining Actress in Panorama Bar on Friday 31.1. is Moiré, who released his debut Never Sleep this year on Actress' Werkdiscs and Ninja Tune, and the uncompromising techno of Marcel Dettmann, a Berghain resident since the club's opening in 1999.
Harking the expansive sounds of Luke Vibert, the analogue programming of Juan Atkins early work, and the rawness of the Drexciya/Dopplereffekt family, Boddika is the newest project of Al Green, better known as one half of the boundary-pushing duo Instra:mental. Citing a love of old school electro and hip hop beats, Detroit Techno, and Chicago House, Boddika takes Stattbad's main stage in a programme with Mark Ernestus and the seven members of Senegalese ensemble Jeri-Jeri. A Portuguese producer with São Toméan roots, DJ Marfox (Príncipe Discos) brings his rich knowledge of Lisbon's music scene to the night, blending the unique poetics and cultural identity of the city's suburbs and projects with African rhythm traditions such as Angolan batida kuduro. Opening the night is Sarah Farina, a DJ that is quickly invading all of Berlin's bass-driven clubs, and Fatima al Qadiri will bring her ruthless cross-border musical blends that range from juke and dubstep, traditional Muslim chant, or 90s electronic pop to close the night.
The afternoon before Robert Henke's closing concert at the HWK, CTM's Radio Lab will draw to a close with world-premiere presentations of the two previously announced works commissioned in collaboration with Deutschlandradio Kultur/Klangkunst, Goethe-Institute, and ICAS/ECAS networks. Following weeklong experimentation projects Walk That Sound by Lukatoyboy and Π-node (by the namesake hacker collective), culminate in live performances of works that re-imagine the role and format of radio.