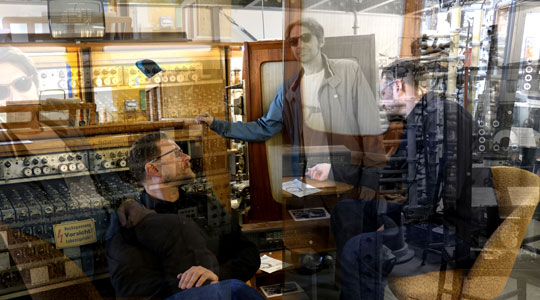 Two winning projects have been selected from an open call for the CTM 2020 Radio Lab. The organizers would like to thank everyone who took the time to submit their proposals, which totalled 135 entries from 38 countries, and collectively addressed the call's themes and challenges from a wide and interesting array of perspectives.
Awarded by Deutschlandfunk Kultur – Radio Art/Klangkunst and CTM Festival, in collaboration with ORF musikprotokoll im steirischen herbst festival, Ö1 Kunstradio, The Wire magazine, and Goethe-Institut, the CTM 2020 Radio Lab open call sought unusual explorations of the artistic possibilities of radio and live performance or installation mediums, while also addressing the CTM 2020 – Liminal festival theme.

The winning works will be premiered at CTM 2020 Festival in Berlin (24.01. – 02.02.2020), with radio versions to be broadcast via Deutschlandfunk Kultur (spring 2020). The works will also be presented by the Österreichischer Rundfunk (ORF Austrian Broadcasting Service) via one of their platforms: the ORF Zeit-Ton or Ö1 Kunstradio shows, or the ORF musikprotokoll im steirischen herbst festival in Graz in autumn 2020.

The jury consisted of:
Beste Aydin (independent artist aka Nene H)
Emily Bick (The Wire)
Elisabeth Zimmerman (Producer, ORF Kunstradio)

Marcus Gammel (Curator, Deutschlandfunk Kultur Radio Art / Klangkunst)
Jan Rohlf (Artistic & Managing Director, CTM Festival)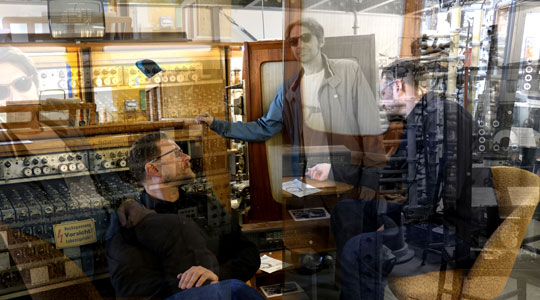 "With noise is born disorder and its opposite: the world. With music is born power and its opposite: subversion." – Jacques Attali
"Noise is not an objective fact and happens in relation to perception." – Paul Hegarty
With "Altered State Solution," Berlin-based artists Dani Gal and Ghazi Barakat consider noise as "an ambiguous space between the disruptive and the creative, and between the oppressive and the subversive."
Claude Shannon's Mathematical Theory of Communication posits information as a set of possible messages transmitted over a noisy channel, which the receiver then reconstructs with low error. Inspired by Shannon's work, which set the basis for modern communication technologies, Gal and Barakat view noise as a liminal space—a threshold that alters (musical) messages, meanings, and intentions. "Altered State Solution" dives into the noise-laden techniques of radio jamming, which were invented in Germany in the 1930s. Widely used by the Soviet Union, they continue to be used by regimes in China, Iran, and North Korea today.
Radio jamming blocks unwanted transmissions from neighbouring countries or oppositional sources. During the Cold War, citizens behind the Iron Curtain tried to overcome jamming noise by listening through it, while the Soviet authorities further developed their jamming methods to create an iron curtain in the "Aether" space. This conflict resulted in creative sound producing techniques and curious recordings that blurred the boundaries between censorship, music, and sound art. The ambiguities between jamming, easy listening music, and bad reception extended the conflicted relationships between the state and its citizens into the aether.
Against this backdrop, Gal and Barakat will transmit sound messages to each other, each creating a noise space that becomes their "region of influence." What unfolds is a liminal feedback space in which intentions are distorted. Noise acts as the threshold that changes and defines the development of the composition, blurring the boundaries between unwanted noise and musical composition.
Jerusalem-born, Berlin-based artist Dani Gal has shown his films and works worldwide, including the 54th Venice Biennale, the Istanbul Biennale, the New Museum New York, the Berlinale, Documenta 14, and Centre Pompidou.
German-Palestinian sound artist, composer, and interpreter Ghazi Barakat has worked in various music fields, from indie (as Boy from Brazil or with Stereo Total), to experimental electronics (as Pharaoh Chromium, where he releases with the label and collective Grautag). He has performed at multiple European and North American festivals and events.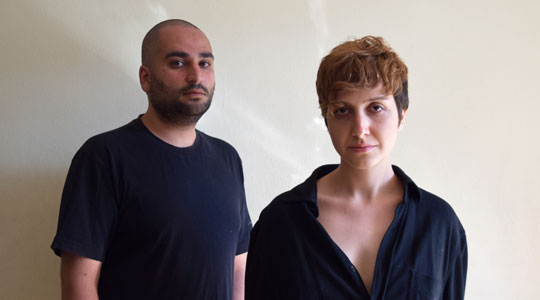 The duo NUM, consisting of Maryam Sirvan and Milad Bagheri, propose to create a three-part suite corresponding to the three stages of time: past, present, and future. Drawing on questions about constant change and the incessant motion of life, the duo reflect on their own history as a couple without formal music training who, because of their shared passion for music, left their native Iran to try out a new life in Tbilisi. The past enables them to examine one's place between two infinities—the present and the future.

As part of their composition process, NUM will visualise the three stages of time with a graphic score, incorporating elements such as duration, dynamics, pitch, and sonic textures. Sampling past experiences, they process acquired knowledge and memories with their new environment, encounters, emotions, uncertainties, and hopes into a unique and personal sonic voyage.

NUM is an electronic duo formed by Maryam Sirvan and Milad Bagheri in 2010 in northern Iran, where the Alborz Mountains meet the Caspian Sea. The duo is now based in Tbilisi, Georgia. Their focus lies in experimental electroacoustic music, where they can create unique atmospheres by combining processed acoustic sounds, instruments, human voices, field recordings, and electronics. In 2018, NUM released tracks on Zabte Sote (Opal Tapes), and on the Uchronia compilation of Asian experimental music (Syrphe). They have recently received electroacoustic composition awards in Iran and Portugal, and have presented works in Georgia, Armenia, Greece, and Poland. Both Sirvan and Bagheri also create solo work.