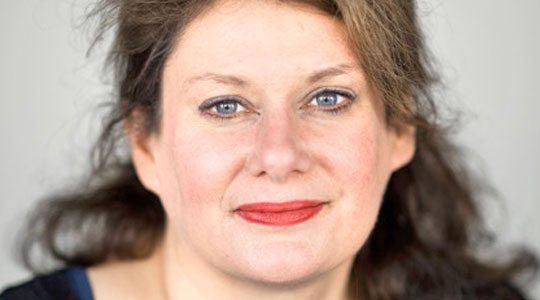 As one of the best informed commentators of Berlin's music and arts scene, and as a dear friend, Meike has supported the activities of CTM from the very beginning – and beyond. She died this past Saturday. An obituary.
At the latest from 2003 on Meike has actively contributed to the success and development of the Festival, for example by co-curating our 2004 edition or by conceiving and co-editing our "Gendertronics" book. As an organisational powerhouse, with logistical smartness, through challenging critiques, tireless encouragement, and crisis management whenever things got shaky, as someone who always thought politically especially through the lens of music, as an art connoisseur, as a quick-witted doorwoman, as a valiant debater, and as a networker, who owned the gift to bring different people together, Meike's contributions were invaluable.
Many have also known her through her work at the Taz, where she was Editor of the paper's "Tazplan" Berlin culture section, though her involvement went far beyond her editorial duties, supporting Berlin's cultural life with the restless energy that was so characteristic of her. Colleagues and friends of Meike have published an obituary on the newspapers blog.
Above all, we remember Meike Jansen as a friend and colleague that never forgot that relationships with the people you are working with on all of these beautiful, weird and exhaustening projects are most important. Her laconic humour and gruff warmth always helped smooth moments of nerve-wracking stress or frustration, or when tension was high while much was at stake. The collaborative process was important to her, and she knew how much the small gestures count. In her own inimitable way she was caring, supporting the cohesion of the team, and was attentive to the well being of individuals. She was family.
Meike died this past Saturday, as a consequence of a rare chronic disease. She will be sorely missed. Thank you for everything, Meike!
Oliver Baurhenn, Jan Rohlf, Remco Schuurbiers, Karen Grzemba, Zuri Maria Daiß, Taica Replansky, and the entire CTM team.
Als vielleicht bestinformierte Beobachterin und Kommentatorin der Berliner Musik- und Kunstszene und als Freundin hat Meike Jansen von Beginn an unsere Aktivitäten im Rahmen von CTM unterstützt – und darüber hinaus. Spätestens seit 2003 hat sie ganz direkt am Gelingen und der Weiterentwicklung des Festivals mitgewirkt: Als Ko-Kuratorin der Festivalausgabe 2004, als Initiatorin und Mitherausgeberin unseres "Gendertronics" Buches, und über all die anderen Jahre als Logistikerin, herausfordernde Kritikerin, Mutmacherin und Feuerwehrfrau, als Fels in der Brandung, wenn mal wieder alles drunter und drüber ging, als Mensch, der immer auch politisch dachte, gerade auch über und in Musik, als Kunstkennerin, als schlagfertige Einlasserin an der Tür, als streitbare Diskutantin und als Netzwerkerin mit der Gabe, unterschiedlichste Menschen zusammenzubringen, bleiben Meikes Beiträge für unsere gemeinsame Arbeit unschätzbar wertvoll.
Viele werden sie auch durch ihre Arbeit bei der Taz gekannt haben, wo sie als Redakteurin des "Tazplan" die Kultur in Berlin tagtäglich mit der ihr eigenen ruhelosen Energie unterstützte. Auch ihre Kolleginnen und Freunde der Taz haben auf ihrem Hausblog einen persönlichen Nachruf für Meike verfasst.
Vor allem denken wir an Meike Jansen als einen starken, im besten Sinne unangepassten Menschen und als eine Freundin und Kollegin, die nie vergaß, dass die Beziehungen zu den Menschen, mit denen man alle diese schönen, seltsamen und aufreibenden Dinge macht, wichtiger sind als alles andere. In Momenten nervenzehrenden Stresses, wenn sich wieder mal Frust breit machte über das Nichtgelingen von Irgendetwas, oder wenn die Anspannung groß war, weil, wie so oft, viel auf dem Spiel stand, halfen uns ihr lakonischer Humor und ihre ruppige Herzlichkeit oft genug darüber hinweg. Das Gemeinsame im Tun war ihr wichtig. Meike wusste, wieviel die kleinen Gesten zählen. Auf ihre ganz eigene, unnachahmliche Art war sie fürsorglich, sorgte sich für den Zusammenhalt des Teams und war aufmerksam für das Befinden des Einzelnen. Auf Meike war mehr als Verlass – sie gehörte zu uns und wir zu ihr.
Meike erlag am vergangenen Samstag den Folgen einer seltenen chronischen Erkrankung. Sie wird uns sehr fehlen. Vielen Dank für alles Meike!
Oliver Baurhenn, Jan Rohlf, Remco Schuurbiers, Karen Grzemba, Zuri Maria Daiß, Taica Replansky und das gesamte Team des CTM.