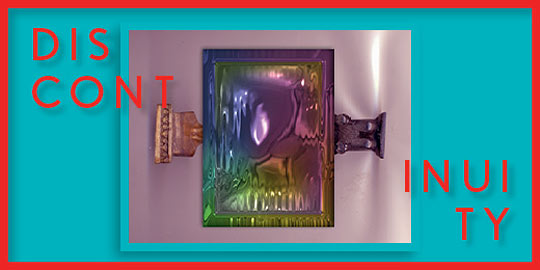 Following last month's initial unveiling of CTM 2014 programming, we're pleased to announce the second wave of artists and projects confirmed for the festival's 15th anniversary edition, taking place January 24 – February 2, 2014 in Berlin.
Actress [UK]
KTL [AT/US]
Helena Hauff [DE]
Concrete Fence (Regis & Russell Haswell) [UK]
Yasunao Tone [JP]
Veronica Vasicka [US]
Sasha Go Hard [US]
Julia Kent [CA]
Mika Vainio & Charlemagne Palestine (FI/US)
Chris Madak (Bee Mask) [US]
Carl Michael von Hausswolff [SE]
Main (Robert Hampson & Stephan Mathieu) [UK/DE]
Christian Zanési [FR]
Mats Lindström [SE]
Rashad Becker [DE]
patten [UK]
COH + Tina Frank [RU/AT]
Outer Space [US]

TR

\\ ER (Truss & Tessela)

[UK]

Thomas Ankersmit [NL]
Dasha Rush [RU]
Ornament & Verbrechen (Ronald & Robert Lippok) [DE]
OAKE [DE]
Beneath [UK]

M.E.S.H.

[DE]

Upperground Orchestra [LB/IT]
Hobocombo [IT]

Russell Haswell

[UK]

DIISSC Orchestra [LT]
The First Latvians on Mars [LV]
Łukasz Szałankiewicz [PL]
Ensemble Mi-65 [SK]
én aka Pal Tóth [HU]
Kassel Jaeger [FR]
Alexander Robotnick [IT]
Godfried-Willem Raes [BE]

Mørbeck

[DE]

Lotic

[US/DE]

Fearplay

[TR]
With special multichannel sound diffusions of works by:
Jim O'Rourke [US]
Ákos Rózmann [HU/SE]
Jan Boerman [NL]
Gottfried Michael König [DE]
Dick Raaijmakers [NL]
Kees Tazelaar [NL]
Henk Badings [NL]
Jaap Spek [NL]
Edgard Varèse [FR]
Tom Dissevelt [NL]
Ton Bruynèl [NL]
Will Eisma [NL]
Ton de Leeuw [NL]
Pierre Schaeffer [FR]
Beatriz Ferreyra [FR]
Bernard Parmegiani [FR]
Régis Renouard-Larivière [FR]
(A full listing of the first wave of CTM 2014 confirmed artists and corresponding audio samples is available here.)
Independent record label Editions Mego was founded in 2006 by Peter Rehberg as a means of conserving the catalogue of now-defunct pioneering experimental music label Mego. It has since tirelessly exhumed and published archival works as well new, unabashed experimentation, presenting relevant and challenging entry points into adventurous music while looking simultaneously forward and backward in time. For the festival's 15th anniversary edition, CTM 2014 and Editions Mego closely collaborate to present several programme modules that cut across the label's vast terrain, showcasing projects such as Peter Rehberg and Stephen O'Malley's famed KTL, noise deconstructionists Yasunao Tone and Russell Haswell, computer musician COH with visuals by Mego artwork designer Tina Frank, and Chris Madak aka Bee Mask. Main, a project by former Loop and Godflesh member Robert Hampson, will appear in its most recent reincarnation with sound artist Stephan Mathieu, alongside experimental sound artist Kassel Jaeger.
Mego's range of conceptual sublabels will also be visited, including Spectrum Spools, headed by ex-Emeralds man John Elliott, who will perform his synth-heavy project inspired by the spacious ambiances of Kosmische Musik with Andrew Veres as Outer Space, as well as Old News, a sublabel that has published numerous works by improv artist and ex-Sonic Youth guitarist Jim O'Rourke. A new piece by O'Rourke will premiere as a special multichannel diffusion at the festival.
A substantive body of work from the achives of Paris-based Groupe de recherches musicales (INA-GRM) has been released on Mego sublabel Recollection GRM since 2012. Founded by Pierre Schaeffer in 1958, GRM was one of several theoretical and experimental groups operating under the umbrella of Office de Radiodiffusion Télévision Française. Exploring Schaeffer's ideas of musique acousmatique and still active today as a leading laboratory of sound experimentation that successfully connects to a younger generation of contemporary artists, it has counted musicians such as Luc Ferrari, Iannis Xenakis, and the recently deceased Bernard Parmegiani among its members. The INA-GRM lecture and showcase at CTM 2014, presented by composer and current artistic director Christian Zanési, will feature multichannel sound diffusions of works by Pierre Schaeffer, Beatriz Ferreyra, Philippe Carson, Bernard Parmegiani, Régis Renouard-Larivière, and Zanési himself.
One of Europe's foremost institutions of electronic music experimentation, the Elektronmusikstudion EMS in Stockholm celebrates its 50th anniversary in 2014. CTM is honoured to invite Mats Lindström, current head of EMS, to direct a two-hour multichannel electroacoustic sound projection entitled "Images of the Dream and Death", composed by Swedish-Hungarian electroacoustic pioneer Ákos Rózmann (1939 – 2005). Vastly under-appreciated during his lifetime, Rózmann rejected traditional acoustic composition entirely, declaring that instrumental music "had no future". Produced by Rózmann at the EMS between 1974 and 2001, "Images of the Dream and Death" was released in 2013 on Editions Mego sublabel Ideologic Organ, curated by Stephen O'Malley. An attempt by Rózmann to "portray Good and Evil", the piece continues to sound haunting to the human ear decades after its creation. Mats Lindström will also give a lecture with diffusions of seminal works produced at the EMS on a separate afternoon.
Kees Tazelaar, director of the Institute of Sonology in The Hague will reconstruct the birth and evolution of electronic music in the Netherlands, which revolved around notable institutions such as the Philips Studios (which supported a laboratory of experimentation in sound and new technologies, assembling leading thinkers and researchers such as Iannis Xenakis, Le Corbusier, and Edgard Varèse during the postwar period), the Art Science Interfaculty, and the Institute of Sonology. The latter two remain bustling creative laboratories for forward-thinking artists and projects. The programme provides a unique chance to experience works by a cast of sound researchers and composers that includes Jan Boerman, Gottfried Michael König, Dick Raaijmakers, Henk Badings, Jaap Spek, Edgard Varèse, Tom Dissevelt, Ton Bruynèl, Will Eisma, Ton de Leeuw, and Kees Tazelaar himself.
CTM will also pay homage to the late Dick Raaijmakers through a rare presentation of his Ideofoon 1 installation. A composer, theatre producer, filmmaker, theorist, and founder of the Art Science Interfaculty, Raaijmakers pioneered work in the fields of electronic and tape music. In the early 1970s, he developed three separate installations, Ideofoon 1, 2, and 3. "Ideophones" are defined as words that evoke certain sensations, e.g. smell, colour, shape, sound, action, or movement. Raaijmakers' Ideofoons each possess a unique voice, but are self-destructive; the speakers activate themselves through feedback loops in order to "speak", and as such have rarely been presented. For its 15th anniversary, CTM will work with engineers toward a more sustainable model for the installation's future presentations.
Curated by Carsten Seiffarth and Carsten Stabenow of Dock e.V., Sound Exchange began its search for the roots and current state of experimental music culture in Central and Eastern Europe in 2011. The region has a lively, international network of musicians, cultures and festivals. Since the period of transition starting in 1981, however, local traditions and their protagonists – especially the underground movements – have partially been forgotten or escaped wider notice as they reinvented themselves.
In a special two-day programme, several Sound Exchange projects will pay homage to a series of Eastern European pioneers via performances by younger-generation artists. The programme includes The First Latvians on Mars, who will present a project dedicated to Hardijs Ledins, an interdisciplinary composer, performer, and theatre dilettante considered as a cult figure in Latvian non-conformist art history, as well as Lithuania's DIISSC Orchestra, a group of five composers who perform with Soviet-era VENTA synths. Ronald and Robert Lippok, known for their involvement in Roccoco Rot and Tarwater, revive Ornament & Verbrechen, an avant-garde band they founded in the GDR underground in 1983. Ensemble Mi-65 will perform graphic and verbal scores by Milan Adamčiak, a fluxus artist from Slovakia, Hungarian Pal Tóth performs an homage to Ernö Király under his én moniker, while the continuity between works from pioneering and rising-generation artists in Poland is explored in a sound diffusion of "Synthistory" (1973) by Bogusław Schaeffer and a corresponding live performance by Łukasz Szałankiewicz. The exhibition "Experimental Music in Central and Eastern Europe" will be on view throughout the festival.
Since 2008, the PAN label has plotted a space where clubland can converse with the avant-garde. At times reconnecting or conjuring past sounds and legacies, at others issuing direct challenges and breaks with these ideas, PAN has opened up a genuine, two-way channel of communication between past and present. 2013 saw notable releases, including the critically-acclaimed debut LP Traditional Music of Notional Species Vol. 1 by Rashad Becker, who as an engineer at Berlin's Dubplates & Mastering has mastered and cut a massive amount of dance, electronic, and experimental albums, Golden Pudel resident Helena Hauff, who has been pushing the resurgence of noisy acid techno through her project Black Sites, and Regis and Russell Haswell's new project, Concrete Fence. Curated together with label head Bill Kouligas, PAN's presence spans various events over the festival week. This year's programme also includes Beneath and M.E.S.H, two artists circling the fringes of dancefloor music with upcoming 2014 releases on the label.
Charlemagne Palestine is a highly influential experimental American musician, composer, performer and visual artist who creates intense, ritualistic music he refers to as "resonant music", in contrast to the "minimal music" of his peers such as Phillip Glass. Palestine will accompany his ringing chants with grand piano and electric organ when he performs together with Mika Vainio, himself a tireless researcher of resonances in electronic music. The two uncompromising musicians will perform together at CTM's Opening Concert on 25.01 at HAU 2.
The Upperground Orchestra, Rabih Beaini's cosmic jazz collective, will join the special Charles Cohen programme in an improv jam together with the pioneering analogue synth experimenter. Charles Cohen is also confirmed to hold a workshop for musicians at Berlin's analogue heaven, Schneiders Büro. Workshop registration will open shortly.
Eastern European currents will be taken up later in the festival week, when previously-announced Romanian prog-psychedelia group Rodion G.A. take the stage for their first-ever show outside the former Iron Curtain. Joining Rodion G.A. is Veronica Vasicka, head of Minimal Wave, a label unearthing the energies of 1980s post-punk analogue synth wave, and Alexander Robotnick, a contemporary of Rodion G.A. who pushed forward the Italian disco and new wave movement in the 70s. Ion Dumitrescu, a key advocate for Rodion G.A., and Istanbul based DJ, journalist, and radio producer Seda Niğbolu aka Fearplay will take over the decks to round out the evening.
Hobocombo, a 3-piece ensemble dedicated to and inspired by the music of blind and deliberately homeless composer, musician, instrument builder, and poet Moondog (1916 – 1999), will open for James Holden.
Godfried-Willem Raes is known worldwide as a musicmaker in the largest sense of the word. As a composer/performer, he is the founder of the Logos-Group (1968), out of which grew the Logos Duo with Moniek Darge, and the experimental <M&M> (Man and Machine) orchestra, operating with his spectacular musical robots. A prolific instrument maker, Raes has created all manner of imaginative and outrageous musical devices. At CTM, Raes will give a lecture and present a film introducing aspects of his work and creations.
CTM's weekend programme continues to take shape with a wide breadth of sounds stemming from industrial-influenced newcomers TR \\ ER (Truss & Tessela), new Warp Records member patten, whose just released the psychedelic Eolian Instate EP on the label, as well as rising Chicago rapper Sasha Go Hard, member of Berlin's Grounded Theory collective Mørbeck, Dasha Rush, whose dark techno bangers have been released on Adam X's Sonic Groove label and her own Fullpanda imprint, and techno abstractionist Actress. Expanding CTM's Berlin Current project, showcasing new talent from Berlin, will be industrial-inspired duo OAKE and the disorienting cross-genre dance music of Lotic.
Canadian cellist Julia Kent, who recently released the mesmerising Character album on instrumental electronic music label Leaf (2013), and who has repeatedly performed with Antony and the Johnsons on numerous past occasions, will share a programme with Berlin Current commission winners Kathy Alberici & Martha Jurksaitis, who will premiere their Sonic Portrait of the Funkhaus Nalepastrasse. As previously announced, two Berlin Current commissioned works will also appear at the festival, with the Edgard Varèse-inspired instrumental techno of the Owen Roberts Ensemble's Recycled Hyperprism Plastik for Amplified Chamber Ensemble to be featured on a separate evening.
This second announcement augments an already diverse lineup that includes:
James Holden live [UK] / Charles Cohen [US] / Rabih Beaini [LB] / Cyclobe [UK], Lichens [US] / Porter Ricks [DE] / Opal Tapes feat Basic House [UK], Karen Gwyer [UK], 1991 [SE], Lumisokea [BE/IT] / Mark Ernestus presents Jeri-Jeri [DE/SN] / Black Manual [DE] / Metasplice [US] / Rodion G.A. [RO] / Erkki Kurenniemi showcase with Mika Vainio [FI], Carl Michael von Hausswolff [SE], Tommi Keränen [FI], Mikko Ojanen [FI], Mika Taanila [FI], Lucky Dragons [US] / Generation Z: ReNoise – Russian Pioneers of Sound Art and Musical Technology in the Early 20th Century [RU] / Kontakt der Jünglinge [DE] / Chris Salter, Marije Baalman and Thomas Spier present n-polytope: Behaviours in Light and Sound after Iannis Xenakis [INT] / Kathy Alberici & Martha Jurksaitis [DE/UK] / Owen Roberts Ensemble [DE/UK] / Lukatoyboy [RS] / P.Node [INT]
Stay tuned as we reveal our full night programme right before the holidays.