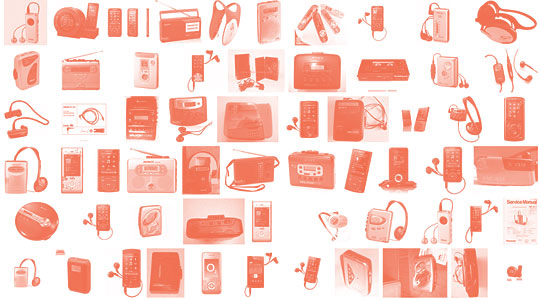 Deutschlandradio Kultur / Klangkunst, Goethe-Institut, ICAS – International Cities of Advanced Sound, ECAS – European Cities of Advanced Sound and CTM Festival award an artistic commission on Ubiquitous Art and Sound. The selected work will be equipped with a production budget/fee of EUR 5000. The deadline is August 30, 2013.
The call for proposals is open to artists in experimental music, sound art, new radio drama, and performance fields. We seek unusual ideas for pairing the specific artistic possibilities of radio with the potentials of live performance or installation. The commissioned works will be presented both as a Deutschlandradio Kultur and ORF Ö1 broadcast, as a performance or installation at CTM Festival in Berlin, and at the ORF musikprotokoll im steirischen herbst festival in Graz, with possibilities for further exposure at events presented by ECAS/ICAS network members.
Project proposals should be built around the theme, "Ubiquitous Art and Sound". Today, digital technologies are revolutionizing the treatment of sound and opening up new dimensions of acoustic space. Technically-designed sounds are increasingly prevalent in both music and everyday life, gaining mobility and increased relevance in all fields and becoming available everywhere, at any time.
Contemporary developments in media not only assign technical and cultural sounds a stronger presence than ever before; they generally direct new attention toward everyday sound signatures originating from natural, technical, and cultural sources alike. This new attention also manifests itself in a growing interest in sound ecology and the protection of certain environments from invasive sound. A consciousness of the power of sound influencing the ways we experience specific spaces, environments or socio-spatial relations is emerging, as is an attunement to the irritating effects arising from the disruption of such normative acoustic spaces and their interactions. Radio has been crucial in paving the way for the omnipresence and mobility of sound today. It is now time to challenge these foundations from a contemporary perspective and explore it in new ways.
We are interested in artistic works and experimental approaches to sound that reflect critically and creatively on these developments, analyzing and manipulating the compositional elements of individual or collective sound environments – from various media spheres to urban and natural areas, concert halls, clubs, living spaces, and the imaginary – and exploring their interconnectivity in performance.
Proposed projects should explore the artistic potential of hybrid formats, inspiring dialogue between the creative possibilities of live and radio forms. The radio version of the work should ideally allow for a length of 40-55 minutes.
The call is not subject to geographical restrictions. The submitted work must be new and as of yet unrealized. A comprehensive description of the project facilitates the assessment by the jury. Submissions should be written in English and include the following materials:
A CV (PDF)
A project description (PDF) with reference to the subject of the call
Sketches, images, audio material if possible (please provide online)
A brief outline of the technical requirements for the realization of the project
Please only use online form below for your submission. Incomplete or late submissions will not be considered.
→ Online form on ecasnetwork.org
Deadline for submission: August 30, 2013
Announcement of jury decision: September 10, 2013
Production phase with intermediate working period in Berlin (negotiable): September 2013 – January 2014
Performance at CTM.14 Festival: January 24 to February 2, 2014
Deutschlandradio Kultur / Klangkunst radio broadcast: February 2014
Presentation at ORF musikprotokoll im steirischen herbst and ORF Ö1 broadcast: autumn 2014
The jury will be comprised of five persons from various backgrounds (artists, curators, journalists) and will be disclosed together with the results.
The selected work will be equipped with a production budget/fee of EUR 5000. CTM Festival performance implementation costs are also provided. Coverage of travel expenses to Berlin, as well as lodging for artists/projects, will be provided if necessary. Deutschlandradio Kultur and CTM Festival will provide support, counseling, and general assistance in the production of the work.
The weekly "Klangkunst" ("Sound Art") broadcast (formerly "Hörspiel Werkstatt" ("Radio Play Workshop") was launched in January 1995 by Deutschlandradio Kultur, German National Radio's cultural program. The broadcast was established to extend the formal possibilities of radio play, experiment with new genres, and introduce listeners to outstanding examples of international sound art. The program covers the entire range of new radio art, from experimental sound play to poetry, text-sound collages, soundscapes, multilingual compositions, and electronic and digital radio performances. International networking and exchange among international radio artists are critical dimensions of the program. Klangkunst is understood as a laboratory for testing the widest possible range of sounds. The program draws from the varied motifs of diverse sonic environments, creating new amalgams of sound dramaturgy, narrative structures, compositional arcs and characteristics of radio as a medium. Klangkunst is a member of the Ars Acustica group of the European Broadcasting Union (EBU).
→ dradio.de/dkultur/sendungen/klangkunst/382602/
As Germany's globally active cultural institute, the Goethe-Institut promotes knowledge of the German language abroad, encourages international cultural cooperation, and conveys a comprehensive image of Germany. The Music Department provides expert advice and impetus to the Goethe-Instituts abroad – and to German embassies. The programmes we develop out of an ongoing dialogue present an up-to-date picture of the highly diverse music scene in Germany and promote interchange between artists in Germany and abroad. Around 1000 projects are mounted every year, involving professionals as well as amateurs and up-and-coming young talents.
'Networking Tomorrow's Art for an Unknown Future' is a project supported by the European Commission Culture Programme and an initiative of ECAS – European Cities of Advanced Sound, a consortium of European members of the international network ICAS – International Cities of Advanced Sound. Thirty organizations and festivals on four continents have joined forces to support mutual development and to promote artistic practises at the interface of music, art, technology and society. Important goals include the exchange of knowledge, capacity building, best practices, and shared cultural and political work. The ECAS project, 'Networking Tomorrow's Art for an Unknown Future' (2010-2015), is a collaborative European platform for new forms of experimental artistic work within the fields of sound, music, and current technologies. In addition to promoting critical artistic practice, the project aims to re-think the structures that underlie and support these practices through ECAS conferences and meetings, co-productions, artist residencies, and artist and researcher production grants.
→ icasnetwork.org
→ ecasnetwork.org
musikprotokoll is Austria's festival platform for contemporary and experimental music. Functioning as a kind of laboratory, musikprotokoll invites the audience to embark on an exploratory journey to discover the latest developments and trends in music, with all the artistic risks that this entails. From orchestral music with the ORF Radio Symphonieorchester Wien to chamber music, from live performances to sound installations, musikprotokoll highlights a wide range of intriguingly heterogeneous forms and genres and presents works that are for the most part developed and produced specifically for the festival.
Dedicated to contemporary and experimental music and intermedia activities, the musikprotokoll programme features outstanding protagonists of current artistic trends and has throughout the festival's long history always placed Austrian positions in an international context.
Founded by Emil Breisach in 1968, musikprotokoll is organised annually by ORF (Austrian Broadcasting). It is a coproduction of its two stations, Radio Österreich 1 and Radio Steiermark, which broadcast the presented works in cooperation with the steirischer herbst festival.
CTM is the leading festival for innovative pop music, electronic and experimental music in Germany. With a mix of concerts and club events, the festival has implemented programming at numerous bastions of Berlin nightlife and culture, and presents internationally renowned artists alongside exhibitions, talks, film screenings, and workshops. International, intensely networked, and always in close contact with artists, professionals, and the public, CTM's year-round activities make critical contributions to a vibrant and artistically innovative music culture. Extending beyond the conventional parameters of a music festival, CTM is a platform for thinking about music: its social relevance and the conditions from which it emerges. As a partner to Berlin's concurrent international festival for art and digital culture broadcasting, transmediale, CTM is resonant and relevant entity across all creative tropes.