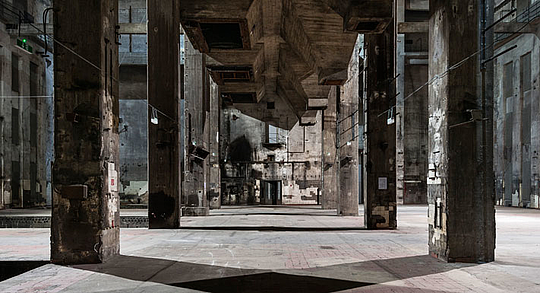 Due to the unsatisfactory nature of our Eis experiment, the Eishalle is now a Skatehalle. Entry is now 3EUR, and roller skate rental is 5—or bring your own!
Skating at the Skatehalle is undertaken at your own risk. Up to 40 people can skate simultaneously. Children under 16 must be accompanied by adults (no children under 3 allowed). Neither CTM / DISK Initiative Bild & Ton e.V. nor Berghain Ostgut GmbH are liable for any injuries. There will be no lockers on site, so please be considerate of what belongings you bring. You can rent skates for one hour for 5 € or bring your own.
There will be a bar with hot and cold beverages (but better not to skate and drink!), and lastly, please be careful and considerate of one another!
Photos are not permitted in the Halle. Please note that capacity is limited – first come, first served.
DJs playing the Eishalle include Skatebård, the Norwegian producer, DJ, and Berghain regular, whose sound weaves across emotional techno, neo-italo, futuristic electro, and a "Scando-cosmic" reinterpretation of classic Detroit sounds. In a continuation of CTM's collaboration with Raster, renowned artists Kyoka, Dasha Rush, Robert Lippok, Grischa Lichtenberger, and Mieko Suzuki appear. The latter will also be repping female:pressure together with Mo Loschelder, a driving force behind Berlin's club scene. Freak de l'Afrique are a German Afro-house group known for hosting parties such as the Afro House Experience, Bantu's Diary, and Black Paper. Room 4 Resistance resident DJ Occult spins ghettotech and booty bass; celebrated music journalist Joe Muggs delivers an ambient set; passionate dancer, attentive listener, and Rinse France resident Marylou appears; and Morphine label boss Rabih Beaini can be relied on to deliver a confounding set chock-full of gems.
Plenty more artists also feature; see below for the full schedule! Warm up with a hot drink and watch the spectacle under a dazzling light array courtesy of Berlin's premier light artist Christopher Bauder. Bauder contributes to CTM's Skatehalle adventure with his intimate light installation FREQUENCIES. Using the live DJ sets as material, Bauder translates sound waves of different frequencies into a rapidly-changing colour palette composed of hundreds of pixels. Lights are synchronised with music in real-time; across fifty lines of pixels, each colour is assigned to a specific frequency and beat. Departing from Bauder's large-scale kinetic light installations such as SKALAR and DEEP WEB, which featured in past editions of CTM, FREQUENCIES is a small-scale happening that celebrates experiments with light as a material and plays with the mechanisms of music composition.
Fri 25.1. 18–24:00
Marylou [FR], Rabih Beaini [LB/DE]
Sat 26.1. 18–24:00
Yoshitaka Hikawa [JP], Leevisa [KR], Frikimo [KR]
Sun 27.1. 18–22:00
Creamcake feat. Alobhe [DE], CORIN [AU], Larry [DE]
Mon 28.1. Closed
Tue 29.1. 18– 24:00 (from 21–24:00 access only with ticket for concert at Berghain)
Raster feat. Robert Lippok [DE], Kyoka [JP], Dasha Rush [RU/DE], Mieko Suzuki [JP/DE], Grischa Lichtenberger [DE]
Wed 30.1. 18–24:00 (from 21–24:00 access only with ticket for concert at Berghain)
female:pressure feat. Mieko Suzuki [JP/DE], Mo Loschelder [DE]
Thu 31.1. 21–24:00 (access only with ticket for concert at Berghain)
DJ Occult [US/DE], Sarj [US/DE]
Fri 1.2. 22–24:00 (access only with ticket for concert at Berghain)
Skatebård [NO]
Sat 2.2. 16–24:00
Freak de l'Afrique Soundsystem with Wallizz & DJ Nomi [DE]
Sun 3.2. 18–22:00
Joe Muggs [UK]
Mon 4.2. Closed
Tue 5.2. 16–24:00
Prison Religion [US], Tatiana Heuman [AR]
Wed 6.2. 16–24:00
Goro [L3C], bod [包家巷] [US]
Thu 7.2. 16–24:00
BlackBlackGold [US/DE], Bestial Mouths (DJ set) [US]
Fri 8.2. 16–24:00
Anna Leevia [BR], Uta [DE], Hops [DE], Zurima [DE]
Sat 9.2. 16–24:00
John Twells [UK], Boo Lean [US]
Sun 10.2. 14–22:00
CTM Allstars with Mobiletti Giradischi [NL/DE], Flamez on Ice [INT], Nai [DE], xin [INT] & more