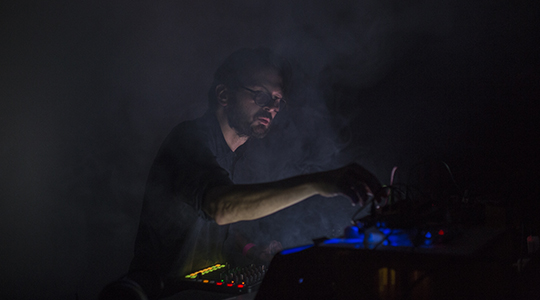 Robert Lippok is a electronic music composer based Berlin, after two decades performing with legendary trio To Rococo Rot. His work centres around creating installations, theatre and stage design for interdisciplinary performances, as well as a steady output of ambient techno experimentations.

Born in 1966, Lippok studied stage design at Kunsthochschule Weißensee Berlin, before forming To Rococo Rot with his brother Ronald Lippok and Stefan Schneider in 1995. They were active until 2014; as part of the trio Lippok was given the opportunity to explore sound installation work, hosting On The Way To The Peak Of Normal at Kunst-Werke in 2000. In 2001, Raster-Noton released Lippok's first solo release Open Close Open, and his first full length release Falling Into Komëit was released by Monika Enterprise in 2004. Lippok returned to Raster-Noton with Redsuperstructure in 2011, and has since worked on two collaborative records, Timeline (2015) with Jesse Osborne-Lanthier and Noir, and Gletschermusik (2016) with Soojin Anjou and Askat Jetigen in 2015.
His latest album, Applied Autonomy (2018), recombines recorded material from live performances with studios sessions with Klara Lewis at EMS Studios to produce techno-inspired soundscapes which evolve meticulously over time. The album closer, "Samtal" demonstrates Lippok and Lewis collaborating as duo. According to Raster, "both musicians played and performed simultaneously, yet not explicitly together, lost in their own thoughts and ideas, only subconsciously taking in what the other one was coming up with."
Parallel to his musical production, Robert Lippok has continued his theatre practice, hosting workshops, creating audiovisual installations, and stage designing for numerous performance pieces. Lippok also tutors at NYU's Clive Davis Institute of Recorded Music and is part of the curatorial board of 4D Sound in Budapest, Hungary.