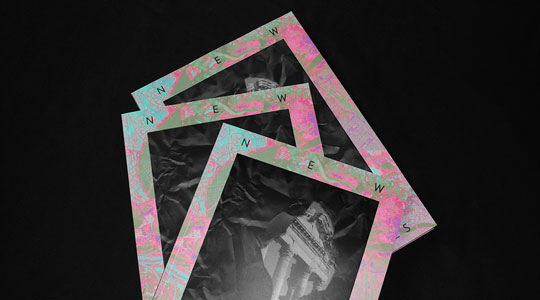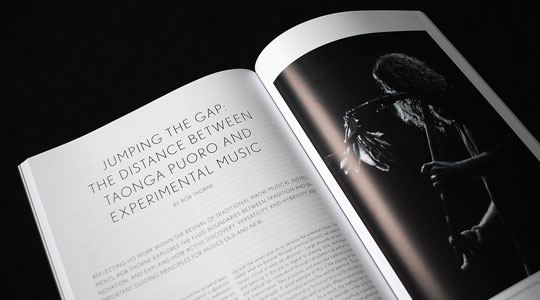 ↑ CTM 2016 magazine, folder and poster. Design by Marius Rehmet (VOJD).
The 17th edition of CTM took place from 29 January – 7 February 2016 in various Berlin venues including HAU – Hebbel am Ufer, Berghain, YAAM, Heimathafen Neukölln, Werkstatt der Kulturen, and Kunstraum Kreuzberg/Bethanien.
CTM 2016 – New Geographies examined today's rapidly collapsing borders and emerging new hybrid topographies, and aims to provide the tools needed to approach the complexities of a polycentric, polychromatic, and increasingly hybrid (music) world with greater openness. Special projects and commissions, as well as artists and sound cultures emanating from less familiar countries and localities and often operating on the fringes of the electronic circuit are featured in greater numbers than ever before. Notable input to the festival's music programme is received from guest co-curator Rabih Beaini, while the festival's exhibition and daytime discourse programme is created in close collaboration with Norient – Network for Local and Global Sounds and Media Culture.
Over 200 artists and professionals from 43 different countries contributed to over 150 performances and projects that made up the CTM 2016 programme, which also included an 8-day Transfer programme that encompassed the Discourse series of artist talks and film screenings, a collaborative MusicMaker's Hacklab for music technology, a Research Networking Day, a Meet & Greet for Collaborative Networks, a Network Speed Dating session, two installations, and the Seismographic Sounds. Visions of a New World exhibition. The 17th edition featured 7 premieres of commissioned works, including 2 that were supported through the CTM 2015 Radio Lab.
As always, the CTM festival was held in parallel to and in collaboration with transmediale – festival for art and digital culture which took place at the Haus der Kulturen der Welt. CTM and transmediale also hosted the P2P Vorspiel initiative together with over 30 local venues and organisations and launched with an opening event on 15 January at ACUD Macht Neu.
Music is now more than ever integrated into the global circulation of ideas, knowledge, people and commodities. Musicians everywhere have increasing access to digital resources that revolutionize music making and distribution. Internet and telecommunications intensify exchanges across existing cultural boundaries. At the same time, extreme regional disparities continue to exist in regards to the participation of minority communities, to political freedom, possibilities for mobility and travel, or when it comes to access to entry points into the dominant music markets.
Musicians in all parts of the world are facing increasingly complex realities that result from the clash between their unique, physically bound local contexts and the boundary expanding effects of globalization and digitization. Polar constellations between local and global practices, regional identity and cosmopolitan aspirations, physical locations and new social spaces housed within the global communication network, and between human agency and autonomous processes in nature and technology all feedback one into another, creating short-circuits that extend the possibilities and repertoire of current music even further. Musicians are creatively challenged to position themselves in this interplay between the dynamics and speed of global processes and their own perspective, their own locality, and their own time. Worldwide, ideas and inputs distributed through global media networks are appropriated and mingled with local practices. Even further, global and local impulses are becoming stretched, transversed, flipped and folded one into the other, and sutured into new morphs.
These processes are profoundly transforming the geographies of contemporary music towards increased cultural hybridity and the multiplication of perspectives. They change perceptions of our world from the old Euro-centric model of a universal modernity that radiates from the centre to the periphery, to the realisation that we are subject to a complex tapestry of multiple modernities, temporalities and geographies that question the hereto accepted notions of culture, identity, and community. Relations between what has been conceptualised as the global North, South, East and West, between mainstream and cultural niches, between producers and consumers, the real and the virtual, between culture, technology, and nature, must be revisited.
Through the New Geographies theme, the festival aimed to explore music and sound practices that respond to these developments, and to provide the conceptual tools needed to approach the complexities of a polycentric, polychromatic, and increasingly hybrid (music) world with greater openness. Hyper cultural sound forms, spatially and temporally remote music practices, non-Western perspectives, queer and minority positions, pop culture identity politics, online music cultures, and the aesthetic examination of machinic and physical processes in the context of virulent materialistic theories, all form focal points for CTM 2016.
New Geographies also attempted to respond, within the realm of capabilities of a music festival, to current societal tendencies here and elsewhere. Disputes over resources, growing Islamophobia, apathy towards the fates of refugees, and conflicts around financial policies that increasingly detach from people's realities currently fuel the rise of restorative initiatives all over Europe, aiming to revive essentialist beliefs of clearly defined cultures and identities to oppose this new hybridity. Through concerts, special events, exhibitions, and discourse programmes, the festival aimed to provide spaces to experience and reflect musical ideas that reject such agendas.
«One of the world's leading experimental music festivals»
→ Crack Magazine, Emma Robertson
«Das CTM ist die wohl bedeutendste Veranstaltung für digitale und elektronische Kultur in Deutschland»
→ Die Tageszeitung, Julian Weber
«Sondant en profondeur la production musicale contemporaine, le festival berlinois CTM s'est montré plus aventureux que jamais lors de cette édition 2016 particulièrement bigarrée.»
→ Les Inrockuptibles, Jérôme Provençal
«Whether it was 3:30 AM on a Thursday night in Panorama Bar, Friday evening at an art museum or Sunday night at Watergate, this year's CTM presented ample sonic geographies to wander through. Here's hoping the diverse, progressive lineup wasn't just an anomaly and that more festivals and club promoters take heed and follow suit.»
→ Resident Advisor, Bianca Guilione
«Where sometimes electronic music festivals can feel rather like a hip musical Starbucks as they export their Boomkat-ready 'sick' line-ups around the world, what's so striking about CTM ... is just what a glorious union of non-'western' sounds this is.»
→ The Quietus, Luke Turner
«It pushed space limits both with its far reach and its full venues and channeled music from then and now. And in the end, it managed to cover not just an illusory map, but a whole sound transcript of the territory.»
→ Electronic Beats, Simona Mantarlian
«Das CTM-Festival für experimentelle Musik mischt die Berliner Nächte einmal wieder richtig auf.»
→ Berliner Morgenpost, Andreas Gumz
«On ne connaît pas dans le monde de festivals équivalant au CTM de Berlin.»
→ The Drone
«It's as if they opened a Pandora box of music and projects, which will spread over other European forward thinking music festivals in the near future.»
→ The Attic
«Zur Halbzeit des CTM-Festivals brummt einem der Schädel. Es handelt sich dabei allerdings um eine nicht unangenehme, auch erhellende, mitunter fast beglückende Verwirrung. Denn zwischen traditionellen Gesängen, wildem Humangeschrei und brüllenden Feedbackgitarren aus aller Herren Länder, nicht zu vergessen natürlich Techno-Reflexionen und Geräusch-Avantgarde wurden vielleicht nicht unbedingt die vom Festivalmotto versprochenen "Neuen Geographien" kartographiert.»
→ Berliner Zeitung, Markus Schneider
«Contaminare. Uscire dalla logica dei "soliti" nomi. Guardare alle avanguardie storiche degli anni '60 e '70 e capire quanto siano attuali ancora oggi. Tentare di dialogare con le musiche del mondo, mettendosi da pari a pari, e pazienza se questo significa anche intamarrirsi un po' (anche perché comunque sacche di cerebralissima qualità sono cose che non mancano e che nessuno toglierà mai). Questo il messaggio del CTM quest'anno, come e più di altri anni, e questo è il messaggio più interessante che può arrivare da Berlino oggi come oggi, musicalmente parlando, e parlando prima di tutto agli appassionati di elettronica.»
→ Soundwall, Davmir Ivic
«Och för alla oss som nosade på CTM i år en källa till ytterligare undersökning, allt finns där för att ge oss nya perspektiv och insikter om vikten av att öppna oss mot andra kulturer och traditioner.»
→ Tidningen Kulturen, Curt Lundberg