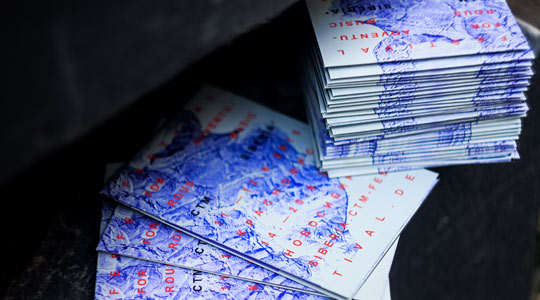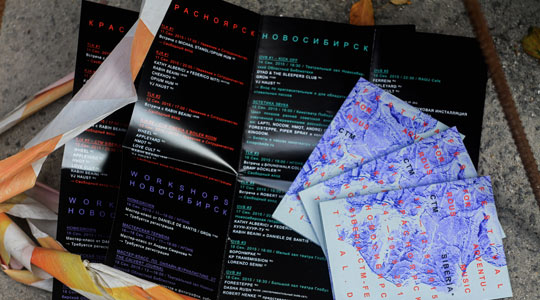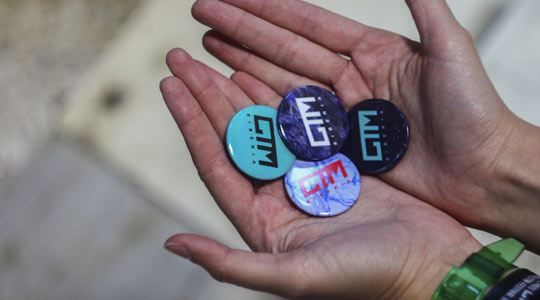 ↑ CTM Siberia programme folder, buttons, and bag. Design by Marius Rehmet (VOJD)
In collaboration with the Goethe Institut Novosibirsk and local partners, CTM brought its unique approach to Siberia in September 2015. With a multi-day programme held in various venues in both Novosibirsk and Krasnoyarsk, the CTM Siberia initiative aimed to foster exchange between local artists and those from wider Russia, with artists based in Berlin and Germany.
While Siberian artists have a strong interest for exchange with international artists and festival curators, in Germany hardly anything is known about Siberian musical life. A highly creative electronic music, improvisation, and club music scene has developed in Novosibirsk, Krasnoyarsk, and Omsk. Siberian musicians often perform under names that mark their distance from Moscow, for instance Bisamratta or Foresteppe. Despite great geographical distances, these voices contribute to the common Siberian musical horizon. CTM Siberia aims to help intensify these networks.
Besides partnering with the Goethe-Institut in Novosibirsk, CTM Siberia was thus developed in close cooperation with Evgeny Gavrilov (Novosibirsk), who publishes under the pseudonym Dyad and is part of the Echotourist network, and Stanislav Sharifullin (Krasnoyarsk), who makes music under his hot moniker while also operating the Klammklang label.
The CTM Siberia programme took place 11–12 September in Krasnoyarsk, which took place at UIClub and included a live Boiler Room broadcast, and then from 14–20 September in Novosibirsk at venues Novosibirsk State Philharmonic, Pobeda Cinema, Novosibirsk Globus Theatre, LPSHBR, Cafe R.A.G.U and the Novosibirsk State Scientific Library. The week in Novosibirsk included a 4-day Discourse programme of talks and workshops, including a multi-day "Theremin Kitchen" session with Andrey Smirnov, an expert researcher on early 20th Century Russian music pioneers.
«In a talk on the festival's opening night, Robert Henke remarked that "the beauty of globalisation is that our generation, and the ones to come, have access to the world of sound". This might read like a rather naive statement, yet after four bewildering, stimulating nights, it reflects the optimism of this strange festival in the back of beyond. This is why CTM Siberia is an inspiring and hopeful experience, where a new generation of Russian artists, internationally connected, are creating their own futures and narratives in a way that's at once very familiar and unlike anything I've seen in the UK or wider 'West'. »
→ The Quietus, Luke Turner
«Es ist ein Anfang, von dem man sich wünscht, dass es bei diesem Anfang nicht bleibt.»
→ Berliner Zeitung, Jens Balzer
«Für das überwiegend junge Publikum waren diese Auftritte häufig ihr ersten Live-Kontakt mit experimenteller elektronischer Musik. Und sogar für einige der teilehmenden Musiker stellte es Neuland dar.»
→ Groove, Heiko Hoffmann
«This most unlikely of festivals shone a well deserved spotlight on one of the most exciting creative scenes in the Russian regions and was carried off in an admirable spirit of internationalism that is much needed in times like these. »
→ The Calvert Journal, Arthur House