The 15th anniversary edition of CTM took place from 24 January – 2 February 2014 in various Berlin venues including HAU – Hebbel am Ufer, Berghain, Stattbad, West Germany, Where is Jesus? Temporary Space, and Kunstraum Kreuzberg/Bethanien.
Entitled Dis Continuity, CTM 2014 focused on hidden connections between past and present musical experimentation by fostering dialogue between musical pioneers whose ideas and discoveries continue to influence how we create and experience music today, and a rising young generation of artists. Adopting a less hierarchical approach, Dis Continuity reconstructed and re-imagined select threads of experimental and electronic music history. Thus it illuminated and contributed to a gradual evolution towards an increasingly open and dynamic concept of music that transgresses the barriers between scientific research, art, pop, academic culture, and various forms of artistic practice.
Widespread access to archival materials currently sparks new, creative ways of interacting with the past that challenge concepts of history and how it is transmitted. The 10-day CTM 2014 festival could at best only begin to convey an idea of how we can play with and (re)shape the ways that individual and collectives stories and ideas can be relayed.
Over 200 artists and professionals from 33 different countries contributed to over 180 performances and projects that made up the CTM 2014 programme, which also included an 8-day Transfer programme that encompassed the Discourse series of artist talks and film screenings, a collaborative MusicMaker's Hacklab for music technology, contributions from Universities via performances and an Education Networking Day. The 15th edition featured several premieres of commissioned works, either through CTM's new Berlin Current programme or through the CTM 2014 Radio Lab. This edition also hosted an installation and exhibition, both of which ran long past the festival.
As always, the CTM festival was held in parallel to and in collaboration with transmediale – festival for art and digital culture which took place at the Haus der Kulturen der Welt. The weekend before the festivals, CTM and transmediale's P2P Vorspiel.
CTM Festival's 15th edition attempts to explore and map fragments of an alternative or neglected history of electronic and experimental music that still waits to be fully written. Under the title Dis Continuity, the festival will highlight select trajectories of past artistic experimentation, protagonists, and movements offside well-beaten paths, and explore how their ideas have evolved throughout different generations of artists, into the present – or how, when arising in an unreceptive or even antagonistic environment, their ideas were ignored, suppressed, sometimes even purposely destroyed, and eventually forgotten.
Common narratives of music's radical evolution over the past century usually favour a few exceptional individuals whose achievements are undisputed, and whose stories are used to exemplify music´s major revolutions and transitions in bold strokes. But the fabric of music is of course far more complex; the conspicuous threads of its agreed-upon luminaries are interwoven with countless individual and collective achievements. No less inferior, these achievements spark, carry, and support the main storylines of the history of music, criss-crossing and feeding into one another or running in parallel, and forming nuclei of change and innovation within their own communities and networks. Within this vast interconnected fabric that stretches across times and places, the simultaneous invention of similar ideas in different locations, the local appropriation of new ideas and the resulting broad variety of explorations play an equal role to the sudden jumps of singular discoveries triggered by chance, synchronicity, and serendipity, or to the slow processes of laborious experimentation. In adopting a less hierarchical perspective and in acknowledging this complexity, the number of pioneering figures that have shaped today's music multiplies rapidly.
By zooming in on a range of musical pioneers, whose curious enthusiasm and pursuit of new, idiosyncratic forms have kept them somewhat off the radar even as their explorations and discoveries continue to exert a too often unacknowledged impact on how we create and experience music today, CTM.14 aims to encourage dialogue between past experimentation and a younger generation of artists and creative minds. In re-evaluating and re-imagining select threads of experimental and electronic music history, Dis Continuity illuminates and contributes to music's gradual evolution towards an increasingly open and dynamic concept of sound and music that transgresses the still only semi-permeable barriers between scientific research and art, pop and academic culture, and various forms of art and artistic practice.
The festival's 15th anniversary is also an occasion to reflect on the conditions and threads of its own history, and to address the increased desire for historic references felt at the dawn of a post-digital era.
«Olympos van avontuur en experiment.»
→ Kindamuzik.net, Sven Schlijper
«L'un de ces festivals qui permet de vivre de rares expériences.»
→ Les inrockuptibles, Jérôme Provençal
«Un festival che guarda costantemente al futuro.»
→ witclub.net, Manuel Grippa
«As rich as Berlin's music scene is, its nightlife veers strongly toward all things house and techno. CTM does a good job of shaking this up a bit, bringing in different styles, highlighting more experimental artists and generally taking a lot of chances.»
→ Resident Advisor, Will Lynch
«Lasting over a week, CTM is not a festival for the faint hearted. This really is the strength and weakness of CTM: as it is genuinely impossible to attend every event, one is forced to pick and choose, but the broad and fascinating range of artists on the bill tell an incredible story, leaving you wishing you could be in two places at once.»
→ Crack Magazine, Thomas Painter
«Le CTM festival équivaut presque à un temple solaire pour tous les mélomanes qui n'ont pas froid aux yeux – ni aux oreilles.»
→ Mouvement, J.P.
«Il programma è, al solito, ricchissimo, ricercato e sorprendente, costellato di anteprime, progetti esclusivi e punte di diamante.»
→ artribune.com
«Depuis 15 ans, le leitmotiv est simple: sortir la musique électronique expérimentale des cercles restreints d'initiés où elle se trouve pour la faire entendre au grand public. Pour cela, le fesitval s'attache à proposer durant une semaine des concerts, des conférences, des performances, des projections d'artistes, dont le travail peu médiatisé et souvent inconnu recèle pourtant de véritables merveilles artistiques. Le CTM contribue à démocratiser un milieu réellement innovant mais mahleureusement confidentiel.»
→ Berlin Poche, Florent Rousse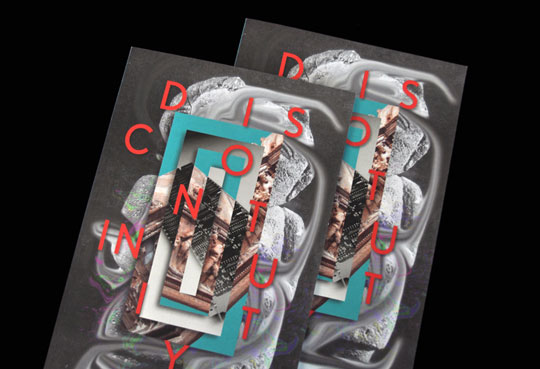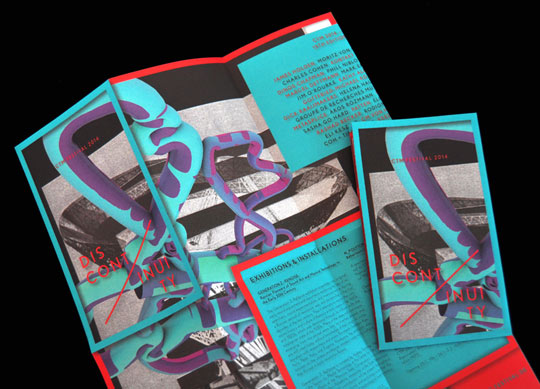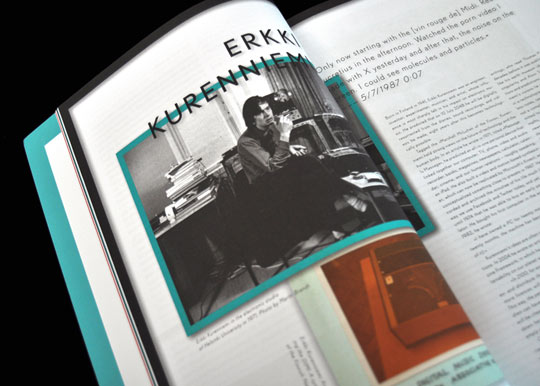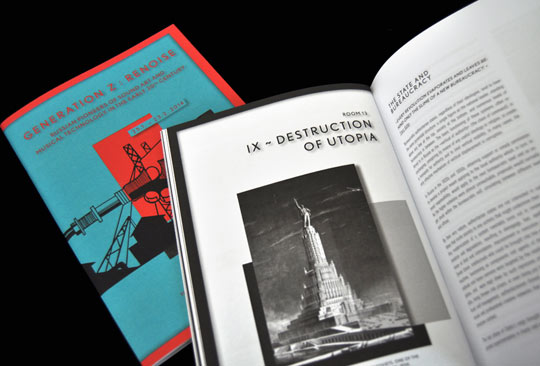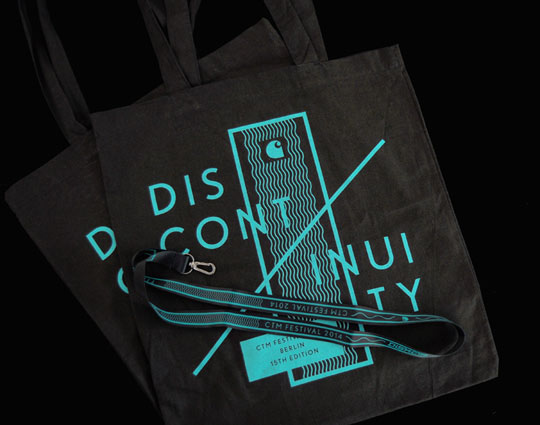 ↑ CTM 2014 visual identity, design studio grau.