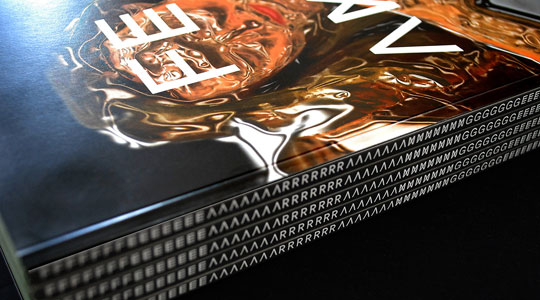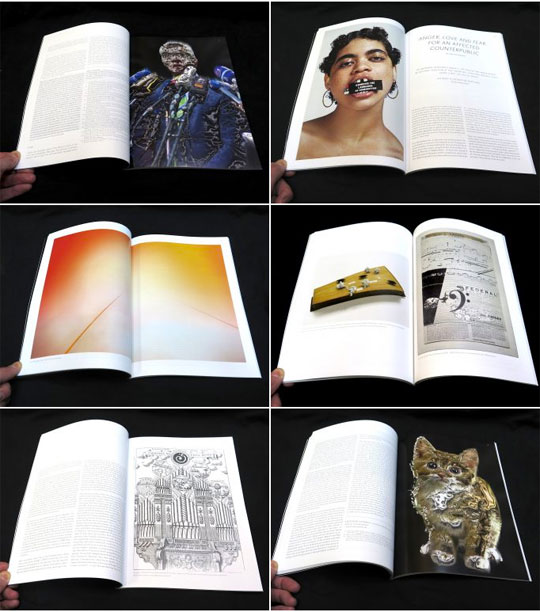 ↑ CTM 2017 magazine, folder and poster. Design by Marius Rehmet (VOJD).
CTM Festival's 18th edition took place from 27 January – 5 February 2017 in various Berlin venues including HAU – Hebbel am Ufer, Berghain, YAAM, Heimathafen Neukölln, SchwuZ, and Kunstraum Kreuzberg/Bethanien.
Under the title Fear Anger Love – CTM 2017 focused explicitly on radical forms of musical expression and dissonant emotions found in or through music and examined the diverse strategies that are applied to unleash or harness them.
Over 250 artists and professionals from 32 different countries contributed to over 150 performances and projects that made up the CTM 2017 programme, which also included the premiere of five commissioned works, two of which were supported through the CTM 2017 Radio Lab. The 8-day Transfer programme encompassed the Discourse series of artist talks and film screenings, the 5th edition of the collaborative MusicMaker's Hacklab for music technology, a Research Networking Day rebooted through guest curation by Dahlia Borsche (Humboldt University's Department of Musicology), a Meet & Greet for Collaborative Networks, a Network Speed Dating session, and the CTM exhibition, curated by Carlos Prieto Acevedo, which focused on music and sound art in Mexico.
As always, the CTM festival was held in parallel to and in collaboration with transmediale – festival for art and digital culture which took place at the Haus der Kulturen der Welt. CTM and transmediale also hosted the P2P Vorspiel initiative together with over 35 local venues and organisations and launched with an opening event on 20 January at ACUD Macht Neu.
Fear, Anger and Love are entry points into confrontation with desire, empathy, despair, grief, euphoria, hatred, fragility, disgust, nihilism, rage, loneliness and other sensations. Music conjures emotions more intensely than most art forms, and makes it possible to experience the ambiguous effects and possibilities of intentional emotionalisation. CTM 2017 Fear Anger Love sought to present musicians and artists that are working with emotion in various ways to respond to urgent societal issues and conflicts that increasingly seem to be emotionally driven.
The worrisome upswing of political populism clearly demonstrates the relentless power of emotions to boil over into dangerous explosive forces. Whenever successfully deployed, its calculated emotions amplify resentment, supporting bigotry and homogenizing, reactionary policies. Yet, if things get out of hand, such tactics don't simply fail, but the emotions unleashed might flare up into even greater instability. Wherever we look these days, the emotionalisation of politics prevents solutions, exacerbates polarisation and escalates conflicts.
But are emotions themselves the problem, or is it the way in which they are exploited by those who virtuosically play with mass media's mechanisms in order to mobilise anti-democratic, essentialist and nationalist agendas? Don't emotions also give a powerful voice to those who are excluded from equal participation, and their demands for more just, diverse, inclusive and open societies? How do we distinguish between progressive and reactionary, or democratic versus anti-democratic, use of emotion? And what does this all have to do with music?
As an art uniquely placed to express and engender emotions, music has always been firmly tied to the explosive janus of its emotionality. In fact, the debate about the manipulative, seductive, or emancipatory potential of resonant emotion is as old as music itself.
As far back as ancient times, music's potential to threaten moral and political order due to its physical power and hypnotic sensuality was apprehensively discussed. It was feared that music could undermine individual autonomy, induce uncontrollable group dynamics, feminise and soften male self-control. Musical sirens threatened delusion and ruin. This problem was met with the attempt to spiritualise music by coupling it to a heavenly harmony and by describing it in purely mathematical terms, such as to detach it from our real bodies. Even today musical positions exist, which abandon its emotional possibilities and search for a rational, context-free music or conceptually driven social criticism. Such movements are not least due to the experiences of 20th century totalitarian systems and of the hegemonizing mechanisms of the cultural industry.
But don't we need emotions as much as we should fear them? And is analytical criticism really the primary task of music and art? On the other end of the spectrum stands a music that wants to be an expression of radical subjective feelings. Such music is born out of personal and social conflicts, and rallies against the suppression of dissonant feelings and types of experience. If not channeled strategically and manipulatively, real emotions, however difficult they may be, give us access to experiences beyond social norms. They inevitably bring into focus the social conditions and conflicts that both trigger intensive reactions and are simultaneously their target. They challenge individuals and societies to consider how to deal both with emotions and with those enthused by them, to ask how open we can be, how much space we want to give those with a different emotional makeup, and how great a capacity we have for integration and resilience.
«One of the world's leading experimental music festivals»
→ Crack Magazine, Emma Robertson
«Das CTM ist die wohl bedeutendste Veranstaltung für digitale und elektronische Kultur in Deutschland»
→ Die Tageszeitung, Julian Weber
«Sondant en profondeur la production musicale contemporaine, le festival berlinois CTM s'est montré plus aventureux que jamais lors de cette édition 2016 particulièrement bigarrée.»
→ Les Inrockuptibles, Jérôme Provençal
«CTM is the quintessential experimental music festival.»
→ Resident Advisor, Matt Unicomb
»Das Berliner CTM ist eines der weltweit wichtigsten Festivals für elektronische und experimentelle Musik.«
→ Der Spiegel, Dennis Pohl
»In these peculiar times, CTM Festival is a rare and unifying force for good in an otherwise oversaturated market«
→ The Quietus, Karl Smith
»Le line-up du festival CTM est encore en avance de son temps«
→ Trax, Lucien Rail
»The festival has enormous scope«
→ Stray Landings, Laurel Uziel and George McVicar
»The festival has made a name for itself for programming and curating some of the most brave, bold and brilliant music and art around«
→ Creative Boom, Emily Gosling
»Fameux raout berlinois sondant en profondeur l'océan des musiques actuelles«
→ Les Inrocks, Jérôme Provencal
»Mittlerweile gehört das CTM zu den bedeutendsten Festivals seiner Art weltweit«
→ TIP Berlin, Thomas Winkler

»Very progressive in terms of gender representation«
→ Here You Are Berlin, Camille Darroux
»Across the nine days, the festival delivered on its promise to champion diversity.«
→ Crack Magazine, Dan Cole und Josie Thaddeus-Johns