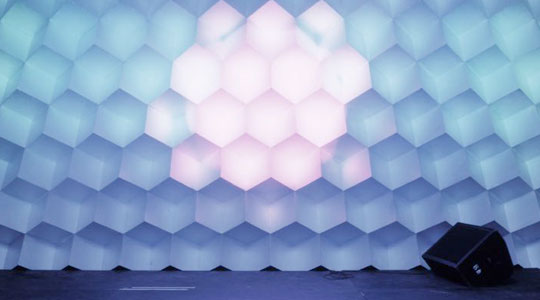 From supporting the creation of new audiovisual works, to providing an artist touring and education platform or a sound art residency network — this afternoon provides a chance to learn about and exchange with organisations and artists involved in three initiatives co-funded by the Creative Europe programme of the European Union. The presentations are followed by a Speed-Dating session involving diverse organisations participating on these networks.
SHAPE — Sound Heterogeneous Art and Performance in Europe is a 3-year project that reunites 16 European non-profit organisations active within the ICAS – International Cities of Advanced Sound network to create a platform that aims to support, promote, and exchange innovative and aspiring emergent musicians and interdisciplinary artists with an interest in sound. SHAPE thus attempts to present a variety of idiosyncratic sounds from all over Europe, and to provide audiences and professionals with insightful lectures, talks, and workshops by experts in various fields related to sound and performance.
From 2015-2017, the 16 organisations collectively select 48 musicians per year to participate in a mix of live performances, residencies, workshops and talks across member festivals and special events. Supported 2016 artists will be announced shortly before CTM.
→ View the 2015 SHAPE supported artists
SHAPE supported artists performing at CTM are: Peder Mannerfelt [SE], KABLAM [SE], Charlotte Bendiks [NO] as well as 2015 alumni Aïsha Devi [CH] and Borusiade [RO]
Biennale Némo [FR] / CTM Festival [DE] / Cynetart Festival [DE] / Festival Maintenant [FR] / Insomnia Festival [NO] / Les siestes électroniques [FR] / Meet Factory [CZ] / MoTA – Museum for Transitory Art [SL] / musikprotokoll im steirischen herbst [AT] / RIAM Festival [FR] / Rokolectiv Festival [RO] / Schiev Festival [BE] / Skaņu Mežs Festival [LV] / TodaysArt Festival [NL] / UH Festival [HU] / Unsound Festival [PL]
SoCCoS – Sound of Culture, Culture of Sound is a residency and research network engaging with exploratory music, sound art, and culture. It provides residency opportunities via exchange of artists, cultural workers and theorists. Through the residencies, SoCCoS offers time and space away from known environments and everyday routines, to discover new sites, different cultures of sound art and source materials, in order to develop special skills and expand artistic networks. The project focuses on language, differences in urban and rural environment, and work with local communities. It practices a structuralist approach in relation to sound art residencies, connecting different sound art practices, geo-social contexts, and art production typologies. It has a strong focus on research, elaborating on geography, culture, sound, language and site-specificity.
SoCCos will engage a new generation of artists through micro-residencies and the subsequent presentation of their work when possible. The activities, residencies, artworks, and related research will be documented on the website and finalized in a book publication.
The SoCCoS network supports the CTM 2016 Radio Lab residencies hosted by and premiering within CTM 2016 – Marija Bozinovska Jones aka MBJ Wetware with J.G. Biberkopf "GAD Technologies" and Deena Abedlwahed "All Hail Mother Internet". The network also hosts 15 sound art students, who in addition to a special programme within CTM 2016 will also present their research and practice at the Research Networking Day on Saturday 6 February.
Q-O2 [BE] / Hai-Art [FI] / Binaural/Nodar [PT] / A-I-R Laboratory [PL] / DISK e.V. [DE]
Associated partners: Bambun (IT) / Moks (EE) / Kumaria (EL) / De School van Gaasbeek (BE)
ENCAC – the European Network for Contemporary Audiovisual Creation, is a transnational research project aimed at fostering the cooperation between artists and scientists under the principles of interdisciplinarity, European intercultural exchange and the development of new audiences. The network aims to unite complementary perspectives of its diverse European members in order to enable collaborative work among European creators in fields of sound, visual arts, performance arts, and digital culture, especially via the development of new technologies and languages at the interstices between these fields.
From May 2015 – June 2017, the project will support several open calls for artistic research and projects as well as artist residencies, and the presentation of the resulting commissioned work. Training programmes and meetings for European developers are also planned. These initiatives will be hosted by the different member organisations over the course of the project. A total of 20 residencies, 12 professional workshops, 2 developer meetings, and 24 performances, installations, presentations, and seminars are planned.
ENCAC supports a residency by artists Evelina Domnitch, Dmitry Gelfand, Paul Prudence and Alexander Miltsen, who jointly will develop a new audiovisual work titled, "Force Field". The work will be presented in its first installation form during CTM Festival week, within the gallery of ACUD Macht Neu in Berlin-Mitte.
LABoral Centro de Arte y Creación Industrial with L.E.V. Festival [ES] / Ars electronica [AT] / DISK e.V. / CTM Festival [DE] / Resonate [RS] / Le Lieu Unique [FR] / humainTROPhumain [FR]
Associated partners: Avatar [CA] / ELEKTRA [CA] / MUTEK.MX [Mexico] / Mapping Festival [CH]