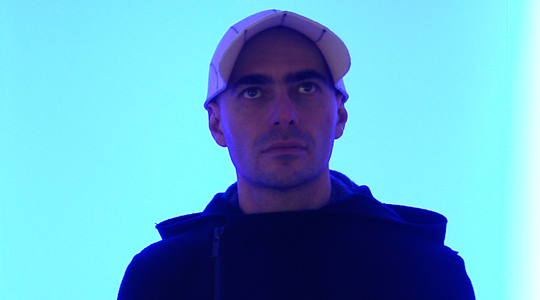 Dmitry Gelfand was born in St. Petersburg in 1974 and received a Bachelor's degree in film and video from New York University in 1996. Now based in Amsterdam, his artistic work since returning to Europe continues to be most often conceived in cooperation with fellow installation artist Evelina Domnitch. The deep-rooted and long-standing collaboration between Gelfand and Domnitch has, since its inception, been dedicated to creating sensory immersion environments that merge physics, chemistry and computer science with uncanny philosophical practices.
As products of a dismissal of the use of recording and fixative media, Gelfand and Evelina Domnitch's installations present ever-transforming phenomena for observation over extended periods of time. Because these rarely-seen phenomena take place live and unmediated, they often vastly extend the observer's sensory repertoire. The immediacy of this experience allows for the transcendence of an illusory distinction between scientific discovery and perceptual expansion.
Together with Domnitch, Gelfand has collaborated with numerous scientific research facilities, including the Drittes Physikalisches Institut (Goettingen University, Germany), the Institute of Advanced Sciences and Technologies (Japan), Ricso Lab (Russia) and the Meurice Institute (Belgium). They are the recipients of the Japan Media Arts Excellence Prize (2007), and an Ars Electronica Honorary Mention (2007).
At CTM, Gelfand will join forces with Domnitch, computational artist Paul Prudence, and acoustic physicist Alexander Miltsen in the production of the commissioned work "Force Field", which uses sonolevitation to acoustically levitate a water droplet.
Dmitry Gelfand appears at CTM 2016 with the kind support of the Creative Industries Fund NL (Stimuleringsfonds).