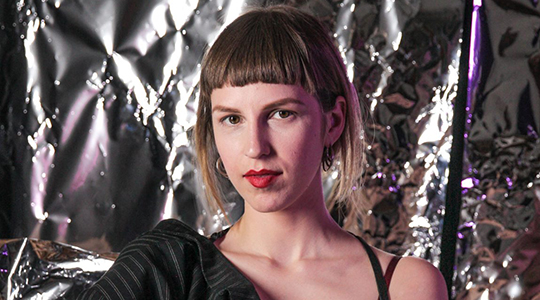 Ecuadorian-Lithuanian RIOBAMBA is a producer, DJ, and cultural activist now based in Brooklyn. She's part of DISCWOMAN's daunting booking roster, and can be found leaving a trail of "exalting, joyous, [and] sexy" mixes (The Fader) behind her.

RIOBAMBA believes in the ability for club music and nightlife to deliver both joy and resistance. This sentiment is reflected in APOCALIPSIS, a record label and creative agency that she founded. The project is dedicated to creating visibility for those "ni de aquí/ni de allá" (not from here, nor from there). It hopes to offer Latinx artists with more room for representation, and has worked with artists such as Mala Fama and Kelman Duran.
Tireless in her work, RIOBAMBA has researched "the subversive power of digital music production in a region enduring the effects of civil conflict and internal displacement." Her research documented collaborations with local musicians and communities, amplifying the sounds of cumbia gótica, political hip-hop, and electro-champeta.
Her recent work includes curating and co-producing Boiler Room's first ever reggaetón showcase, and providing music education in a Brooklyn juvenile detention center. In 2018, RIOBAMBA was named one of FACT's 2018 club artists to watch - a prediction soon-after confirmed when she delivered the magazine with an exuberant mix that traipsed through sounds from Errorsmith, Merca Bae, and Daddy Yankee. She has performed alongside the likes of Princess Nokia, Rosa Pistola, and The Knife.