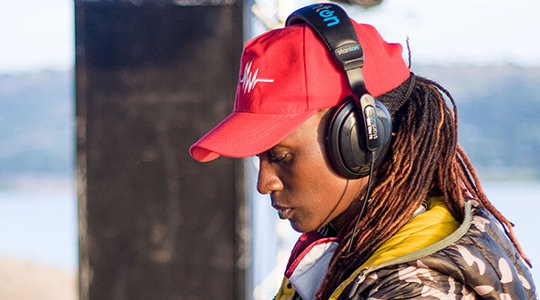 DJ Rachael is a Kampala-based producer, who has been central to the collective activities of female DJs in East Africa. DJ Rachael has spent the past 20 years performing at parties and club nights, as well as co-founding Femme Electronic, an organisation that supports female DJs and producers. In 2016 she became the first female DJ to be selected for WOMEX.
Starting her career in the mid-nineties (first as an MC then a DJ), DJ Rachael's appearances in Kampala became more prominent as she appeared at venues such as Club Pulsations and Club Silk. Her vast amount of experience is always on display with her DJ sets and mixes, which deftly hop across a wide range of genres from hip hop and funk to house and afro-folk, and include countless productions and edits from local artists, pioneering what she calls a 'melting pot' style.
She is as well known for her DJing skills as her activity in the the Kampala music scene. Recently she began to host DJ workshops for female artists that lead up to a monthly showcase, including residencies for 25 participants. She also initiated Femme Electronic in 2016, working with artists such as Kampire to not only mentor new artists, but also build bridges across the music industry to give better access to female DJs based in Africa.
Thanks to DJ Rachael, as well as highly popular organisations such as Bayimba Festival and Nyege Nyege Tapes, music in East Africa has become a phenomena across the worldwide club music scene. For Rachael it has helped her create international connections, including working with The Black Madonna, linking Femme Electronic with Berlin's Mint collective, and DJing in Chicago for Daphne festival.