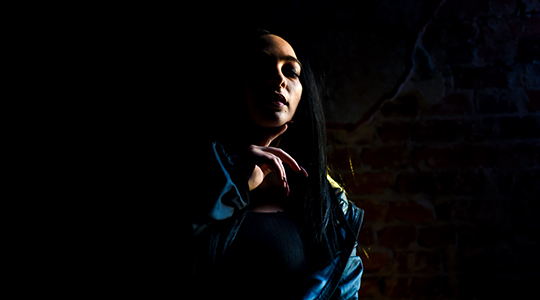 DJ Haram is a New Jersey-raised DJ and producer now based in Philadelphia. She's part of the Discwoman collective, and half of 700 Bliss with Moor Mother. Haram's mixes celebrate club styles from Philly, New Jersey, and Baltimore while folding in music from her Middle Eastern and DIY noise scene roots.

DJ Haram began her musical foray through sound design, experimenting with synthesis and sampling to create unique collages. In 2016, Haram self-released Birds Of Paradise, which Pitchfork described as an "infectious and whip-smart blend of Jersey club and global pop," demonstrating her uncanny knack for folding unlikely sounds into dance music. Since then, she has self-released a number of original productions, as well as contributing remixes and original music for various compilations.
Beyond producing club music, Haram composed a 25 minute audio piece for Munich-based dancer Richard Siegal's company Ballet of Difference in 2017. She has also composed original music for Moog's launch of the modular drum machine DFAM.
Haram's musical activities reflect the collaborative and community-led scene in Philadelphia. In her hometown, Haram curates (f)LAWLESS, a queer fundraising event; DIY hip hop night 'Gas'; magazine Bros Fall Back; as well as the monthly RAGE RADIO show on Rinse FM.
In addition to DJing at CTM 2019, DJ Haram will also be performing as 700 Bliss with Moor Mother.