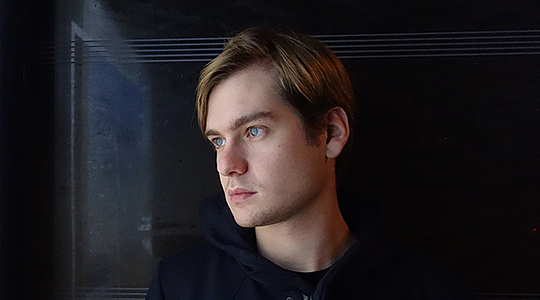 Casimir Geelhoed is a young coder, composer, and music producer who boasts extensive experience with spatial sound. Educated at the Royal Conservatory in The Hague and Utrecht School of Arts, Geelhoed is known for his take on dark, experimental club music.

As HOEK, he released his first EP at age 19 on Amsterdam-based imprint Fog Mountain Records. His productions display Geelhoed's carefully sculpted sound design, and have cemented him with a reputation for intense percussion and cinematic textures.
At 21 years old, Geelhoed joined Budapest's Spatial Sound Institute, where he currently works in development. As part of their core programming team, he develops expressive tools and software for sound spatialization. Geelhoed now produces solo as Casimir, as well as with Anni Nöps as Whitespace. He featured in renowned Danish label Posh Isolation's compilation I Could Go Anywhere But Again I Go With You, alongside artists such as Puce Mary and Astrid Sonne. Geelhoed has performed at renowned festivals, including The Hague's Rewire and Utrecht's Le Guess Who?.
For CTM 2019, Geelhoed performs at MONOM with a piece exploring anxiety, confusion, overstimulation, and struggle, offering a tale of endurance and hope through persistence.