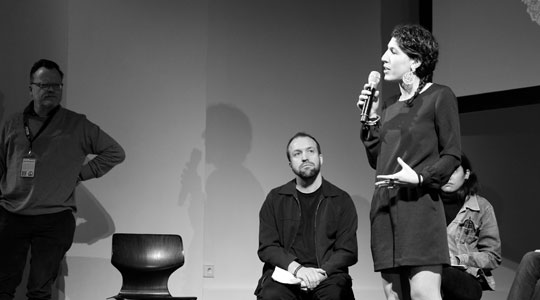 The Research Networking Day (RND) is an exchange platform for students and researchers from different European graduate and postgraduate programmes traversing the fields of audio, arts, media, design, and related theoretical disciplines. Selected through an open call, the RND 2020 participants will each give short, 10 minute presentations on their current research and ideas, which address the scope of CTM 2020's Liminal theme.
This RND edition will take place in collaboration with UdK Berlin University of the Arts, the German Association for Music Business and Music Culture Research (GMM), and Humboldt University. Admission is free.
Hosted by Anita Jóri (Vilém Flusser Archive, GMM, HU/DE)
Tara Hill (Hamburg University, DE) – "Pirate Utopias. Politics of Ecstasy – Negotiating the Sacred in Contemporary Club Culture"
Jasemin Khaleli (University of Vienna, AT) – "Raving Potentialities. Un/Doing the Field"
Steve Garofano (Humboldt University, DE) – "Entrainment: In the Space Between Perception & Action"
Hosted by Alberto de Campo (UdK Berlin University of the Arts, DE)
Alex Yiu (School of Creative Media, City University Hong Kong, HK) – "Becoming 'Hong Kong': Sound and Music of the 2019 Hong Kong Protests"
Giada Dalla Bontà (University of Venice, IT)– "Sounding the dissolution: 90s Russian non-official music between past ideology and future hopes"
Elsa Guily (UdK Berlin University of the Arts, DE) – "Listening to (post-)Algerian memories on display"
Matilda Jones (Freie Universität, DE) – "The Liminal Politics of Happiness: Collective Joy, Public Spaces, and the Infectious Utterance of Hope"
Hosted by Stefanie Alisch (Humboldt University, DE)
Caitlin O'Riordan (University of Groningen, NL ) – "Gender Deprogramming and Vocal Resynthesis in Contemporary Music Practice"

Tabea Nixdorff (ArtEZ University of the Arts, Arnhem, NL) – "su·​sur·​rous (full of whispering sounds)"
Claire Holdsworth (University of the Arts London, UK) – "Ventriloquial bodies: Re-framing ephemerality in artists' film and video"
Hosted by Anita Jóri (Vilém Flusser Archive, GMM, HU/DE)
Anita Jóri, Stefanie Alisch, Alberto de Campo, participants, and the public.