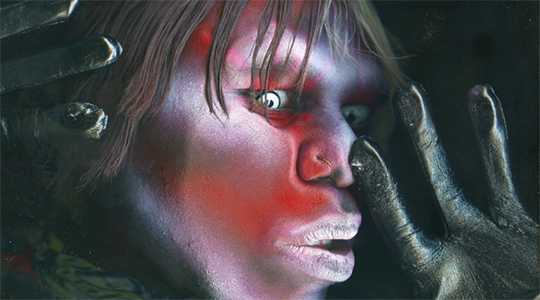 Yves Tumor is the enigmatic ambient producer turned pop iconoclast. His most recent album, Safe In The Hands Of Love, received universal acclaim for its uncategorisable nature and haunting moods.

Raised in Tennessee, Yves Tumor spent his most recent years living in Turin and Leipzig, where he worked on his breakout LP Serpent Music, which came out on PAN in 2016. The record is a highly personal account of love – for Tumor, "they were really personal songs, and I was really proud of it. I didn't want to just put it on Bandcamp, I wanted it to really spread, so I just sat on it for years until someone was down to release it." Following Serpent Music came the equally impressive mixtape Experiencing Deposits Of Faith, which demonstrates Tumor's knack for creating sensual moods, only to disrupt them with harsh percussive techniques and insistent R&B loops.
Yves Tumor's first album for Warp, Safe In The Hands Of Love, shows a more playful side, but without losing the emotionally wrought elements of his previous productions. In a decided departure from strictly ambient and R&B, Tumor's references broaden towards pop and indie rock with a more studio-based focus rewarding the final results. Rather than depicting a turn away from his previous works, Safe In The Hands Of Love, depicts an artist continuing to be unconstrained from stylistic boundaries, able to explore a multi-faceted emotional honesty augmented by whichever sound palette resonates.
In a live setting, Yves Tumor is almost unrecognisable from his productions. As opposed to the relative downtempo serenity of his albums, Tumor's stage presence invites a communal, physical catharsis rarely witnessed in experimental music spaces.