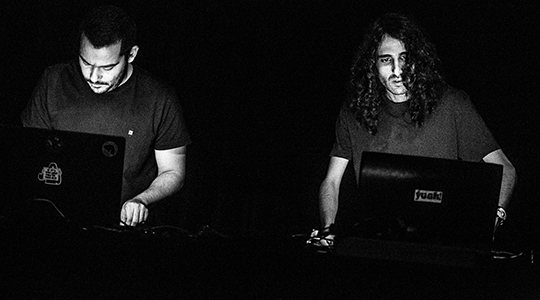 Temp-Illusion are Shahin Entezami (otherwise known as Tegh) and Behrang Najafi (or Bescolour). The two are an experimental electronic duo hailing from Tehran, Iran, active since 2011.

Using a wide range of music software and hardware, Temp-Illusion combine noisy and atmospheric textures with peculiar melodies and complex beat programming. In their particular take on dance music, industrial and noise influences are woven together into considered, detailed compositions.
Temp-Illusion are mostly known for their live performances. They have appeared at a number of events and festivals in Tehran, such as TADAEX, SET Festival, Paraffin Tehran, and the 2018 SET x CTM collaboration.

Both Entezami and Najafi are also active with their solo projects. As Tegh, Entezami has released Night Scenes on Inner Ocean Records, as well as Through the Winter Woods (with Kamyar Tavakoli) on Hibernate, and Downfall on Midira. As Bescolour, Najafi has contributed to Soft's Discovery 1 compilation of ambient, drone, and experimental music; and remixed music for ArtSaves. They both appeared on Flaming Pines' 2016 compilation of experimental Iranian music, Absence, are currently working on their debut album.