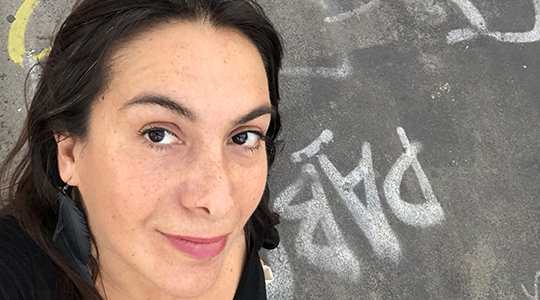 The work of Tania Candiani (Mexico City, 1974) has developed across various media and practices that maintain an interest in the complex intersection between language systems—phonic, graphic, linguistic, symbolic, and technological. She has worked with different narratives of association, taking as a starting point a proposal to invent from re-ordering, remixing, and playing with correspondences between technologies, knowledge, and thought. She uses the idea of organisation and reorganisation as discourse, as a structure of creative and critical thinking, and as material for actual production.
Through the exploration of elements such as sound, words, patterns, and diagrams, Candiani recreates unique translations that enhance the possibilities of language. She has collaborated with interdisciplinary working groups in various fields of knowledge, consolidating intersections between art, design, literature, music, architecture, and science. Candiani has also worked on projects that involved craft, tradition, sustainability, synesthesia, rhythm, and translation towards the production of artworks, installations, and videos which reflect these intersections, as well as on our relationship with early technology and its history in the production of knowledge. As a non-academic researcher, Candiani uses historical records and archives as weaving materials, leading her to intuitive forms of materialization.
She is fellow of the National System of Art Creators, from Mexico since 2012, and has received the Smithsonian Artist Research Fellowship in 2018; Guggenheim Fellowship Award in 2011; and an Award of Distinction at Prix Ars Electronica in 2013, among others. She represented Mexico, in collaboration with Luis Felipe Ortega, at the 56th Venice Biennale. Her work has been exhibited widely around the globe, and is part of important public and private collections. Among her monographic books are: Five Variations of Phonic Circumstances and a Pause (2014); Habita Intervenido (2015); Possessing Nature, Pavilion of Mexico (2015); and Chromatic (2018).