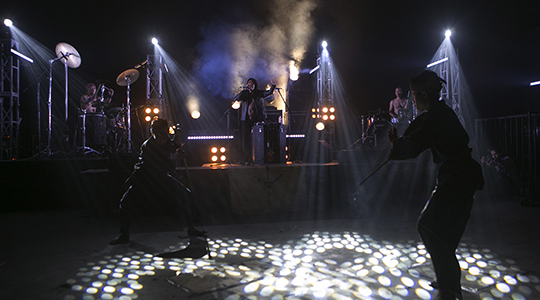 Consisting of percussionists Ramberto Agozalie and Caesarking, plus vocalist Rully Shabara, Setabuhan is a project from Indonesia that has been reinventing tribal trance music since 2017.

The impetus for Setabuhan lies in the monotonous, interlocking beats of the ancient Central Sulawesian ritual Balia, a dance associated with animism and sacred objects, such as those related to traditional medicines for the affliction of evil spirits.
Setabuhan amplifies the energy of this traditional practice with layers of contemporary sonics. Their live performances are often accompanied by pairs of martial artists fighting, or amateur fighters participating in free-form fighting styles. The project does not promote violence, but instead uses spectacle and catharsis to explore ways of managing aggression, physical contact, and embodied expression.
The trio released their first album in March 2018 on Yes No Wave Music, a non-profit music label founded by Wok the Rock in Yogyakarta, Indonesia. They have performed at the collaborative Nusasonic 2018, the Jogja Biennale XIV, Yes No Klub, Tasmania's Dark MOFO, and Sydney's Resonant Bodies Festival.