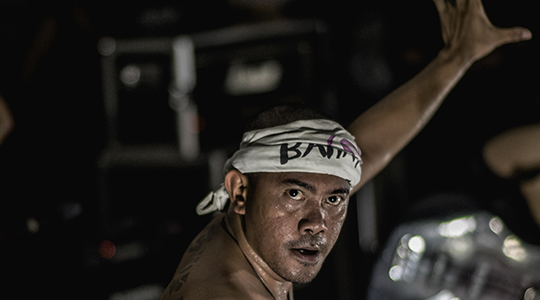 As one half of Senyawa, vocalist Rully Shabara has become one of South Asia's most recognisable faces in the underground and experimental music scene. Known for his dynamic, intense performances, which captivate audiences globally, Shabara's onstage presence bridges contemporary metal with traditional Indonesian folk and various theatrical performance styles.
Starting with experimental punk band Zoo in 2005, Rully Shabara began making a name for himself through frenetic live performances and fast-paced, urgent records. Five years later, Zoo's record label Yes No Wave organised an improvisational performance between Shabara and instrument builder Wukir Suryadi, thus hosting the first Senyawa event. Using metal music as their spiritual centre, Senyawa fold in Suryadi's folk and theatre background into their compositions and improvisations. While Rully Shabara continues with Zoo and Senyawa, he has also commenced a new project entitled Setabuhan.
Comprised solely of percussion (drummers Ramberto Agozalie and Caesarking), and Shabara's voice, Setabuhan is a modern reinvention of tribal trance. They take inspiration from the monotonous, interlocking beats of the ancient Central Sulawesian animistic ritual, Balia. The ritual focuses on healing people possessed by evil spirits, exorcising and appeasing the spirit through repetition, dance, and movement. Shabara will also be participating in DIY research platform Kombo at CTM 2019.
A rich thread which runs through Rully Shabara's work is his relationship with nature and a personal exploration with the possibilities of his voice. In an interview Shabara says: "Voice is my instrument of choice, not only for its huge range of sound and texture possibilities, but also its strong connection to spirituality and the environment…It cannot be separated, so personal, we need to look inward to master it. Learning vocals is about learning about yourself, including your weaknesses."