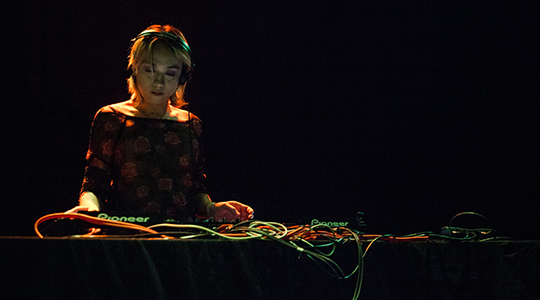 RUI HO is a rising star revitalising contemporary club music. As a producer, she fuses traditional Chinese melodies with dance music tropes, as heard on her debut releases "Ru Meng Ling" and 戰記 on Genome 6.66 Mbp. More recently, she followed them up with Becoming is an Eventful Situation on Objects Limited.

"Ru Meng Ling" meditates on and navigates through RUI HO's gender, virtual, and cultural identities. Sampling a Chinese poem via Google Translate's text to voice function, the track ambitiously bends gender and genre. Her debut EP for Genome continues this exploratory approach, warping Chinese melodies into Western club influences, and into a loose narrative of ancient warfare and imaginary events
Becoming is an Eventful Situation takes a step back from club-oriented sounds, with thick ambience, warm textures, and occasional trance-tinged vocal swathes. Complete with remixes from x/o and Dis Fig, Becoming evidences "a style in which you don't drift so much as struggle, like a current that suddenly becomes a whirlpool." (Resident Advisor)
As a DJ, RUI HO is equally as adventurous. A recent mix for Discwoman shows off her daring sensibilities, venturing through breakbeat hardcore, trance, pop, and more, but maintaining a reliably punk attitude throughout. It features plenty of input from her alter ego, DJ Ruan, who unapologetically splices together music from Kendrick Lamar, Shyboi, and others.