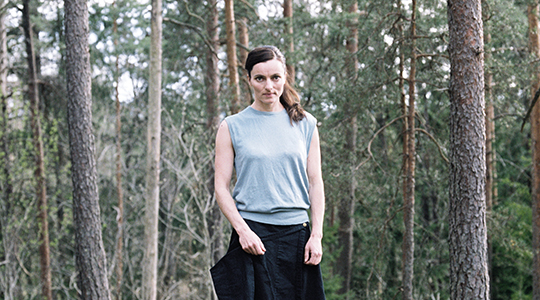 Maja S.K. Ratkje is a Norwegian singer renowned for her extraordinary vocal range. Active for over twenty years her work expands beyond singing into being a composer in her own right and engineer. She has received numerous awards, and in 2001, Ratkje was first to receive the prestigious Arne Nordheim award.
Ratkje has a track record as a prolific artist, having undertaken compositions for various groups and genres, writing for ensembles large and small, working in traditional contexts (as well as including experimental electronics into chamber works), and recording music for children too. As solo artist, Ratkje has worked with several acclaimed record labels including Tzadik, Important, and Rune Grammofon, which released her first album Voice in 2002. With Voice, she won an Award of Distinction at Prix Ars Electronica.
Maja Ratkje's key works include Gagaku Variations (2001) for accordion and string quartet; No Title Performance and Sparkling Water, for which she received the Edvardprisen in 2004; and the Radio France commissioned Concerto for Voice (2004). Most recently in 2018, she scored and performed the music for theatre production Sult (Hunger) at the Norway National Opera and Ballet, in collaboration with choreographer Jo Strømgren. Over the 130 albums and works she has contributed to, Ratkje has shown her versatility in working in various styles, absorbing styles from Japanese traditional music to ambient electronica. Her latest solo album, Crepuscular Hour, was released again via Rune Grammofon in 2016.
For CTM 2019 Ratkje will be present Avant Joik with fellow Scandinavian singer Katarina Barruk and video artist Matti Aikio.