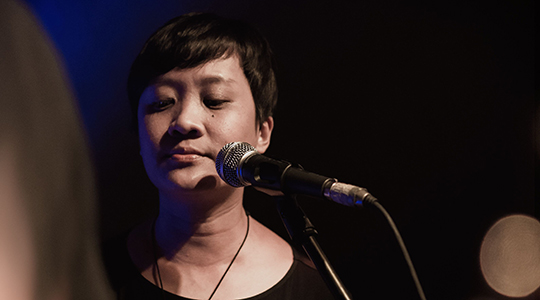 Kok Siew-Wai is an experimental vocalist, media artist, and curator based in Kuala Lumpur, Malaysia. Participating in Kombo, a DIY platform which explores improvisation and experimental composition methods, Siew-Wai will provide expertise in cross-disciplinary dialogue and research to foster creativity and collaboration between artists in different media.

Siew-Wai studied in America between 1998 and 2005, obtaining degrees in media studies and electronic arts at the University of Buffalo and Alfred University, before returning to Malaysia. Upon her return, she decided to shift her energies from creating new work to organising and curating. She established SiCKL, an alternative artist collective, and started staging DIY video screenings and music events. In 2010 she became the co-festival director of Sama-sama Guesthouse Mini Alternative Art Festival, a no-budget art festival; and co-curator of the music programme in Notthatbalai Art Festival 2007. Siew-Wai's most committed role is as the co-founder, co-curator and festival director of the Kuala Lumpur Experimental Film, Video & Music Festival. Through KLEX, she is actively connected with the international experimental art communities, and has shown her curated screening programmes across Europe, Asia and North America.
Siew-Wai's artworks are mostly personal and poetic, expressing various subjects in everyday life such as emotions, contemplation and the human body. Her greatest inspiration in art-making comes from "the little things in everyday life". She works with video and music improvisation, and is most interested in focusing at the moment and reflecting oneself inwardly. In her vocal works, Siew-Wai is interested in exploring the possibilities of the human voice, which can be a versatile musical instrument and an extension of human emotions, through music improvisation.