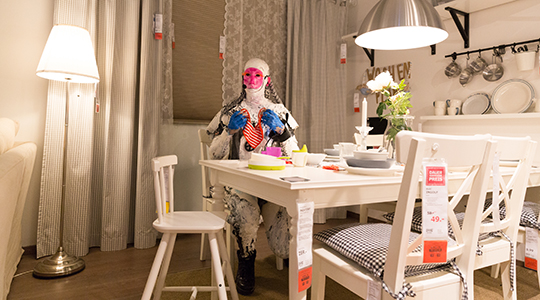 Johannes Paul Raether lives and works in Berlin. At the center of his work are constructed identities (such as Avataras, AlterIdentities, and SelfSisters) who emerge at various sites in public space where they research, teach, and tell stories.

As colorful beings made up from everyday objects, these identities discuss complex topics such as bio and reproduction industries, globalised tourism or occult substances in contemporary technology.
While studying at the Berlin University of the Arts, Raether initiated a number of projects, such as Freie Klass Berlin, an artist-run educational group, as well as participated in the studio and arts collective space basso between 2006 and 2011. In 2013, Raether co-edited the book Show, Demonstrate, Exchange. Performance - Art - Academy with Discoteca Flaming Star, documenting two events in Stuttgart and Berlin.
Raether's works and performances were shown at, among others, the 9th Berlin Biennale, Palais de Tokyo in Paris, Fridericianum in Kassel, and Savvy Contemporary in Berlin. Recent solo exhibitions took place at District in Berlin, Transmission Gallery in Glasgow, and Ludlow 38 in New York City.