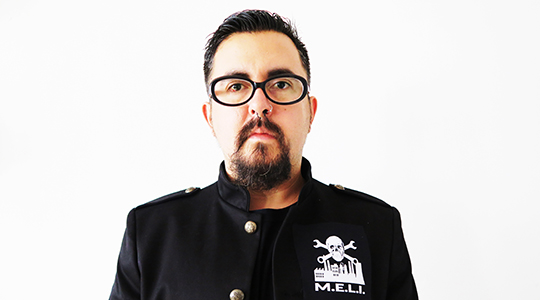 Hailing from Guadalajara, Mexico, is Israel Martínez, an artist who works with sound, video, photography, text, and a number of other media. He is interested in catalyzing social and political reflections and critiques, and is one of CTM 2019's Radio Lab winners.

Martínez' Radio Lab piece will consider the role of persistence in Mexico's political climate. In his words, persistence is "not a choice or a possibility: it is a condition to be able to survive, to be able to imagine a different future." For CTM 2019, he will present Love and Rage, a tribute to the perseverance of resistance. Through a series of powerful, intimate performances that comment on political activism in Mexico, Love and Rage aims to resonate with a variety of insistent practices around the world.
Credited with a Distinction Award at Prix Ars Electronica in 2007, Martínez has exhibited individually and collectively all over the world, at venues and festivals such as the Moscow Biennial, daadgalerie, and Cultural Mission Center for Latin Arts, among others.
He has published work, both written and recorded, through Sub Rosa, Errant Bodies Press, The Wire, and more. Martínez co-founded labels and collectives Abolipop and Suplex, and is currently a member of National System of Art Creators in Mexico. Martínez has also been part of residency programmes such as the DAAD Berliner Künstlerprogramm, Germany, and MuseumsQuartier, Austria.