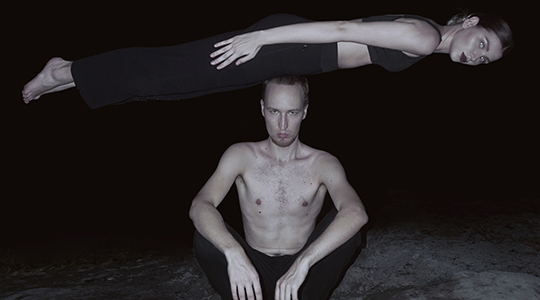 Termed "[t]he most challenging band in this [Moscow] scene," (Noisey) IC3PEAK are the duo of Nick Kostylev and Nastya Kreslina, who describe themselves as "audio-visual terrorists." They craft futuristic, dystopian opera, and recently found themselves in direct opposition with the Russian authorities, playing secret shows and being shut down by the FSB for their outspoken political views.
IC3PEAK first surfaced five years ago as an art project, mixing music production with visual media and onstage costuming. Their first EP, SUBSTANCES, marked a blueprint for mixing trap music with haunting, operatic melody and hard industrial textures. This led directly into their self-titled full length, released in 2015. IC3PEAK's sound is distinctly more aggressive, and was highly praised alongside the Russian witch house revival.
Their latest album, CKA3KA, was released in 2018, and journeys through a Russian horror fairytale. Its arc passes across delicate and ethereal textures, frantic trap, and the occasional moment of clarity. In a review by Nest HQ, CKA3KA was described as "the kind of heavy where I turned to my left while at a stoplight to see some older gents in a car looking at me in complete and utter shock at the power noise spewing at full volume from my car system."
During the promotion of their album, IC3PEAK became embroiled in controversy against Russia's conservative government, as their work was seen as "undesirable music." Their concerts were shut down and members detained by the police. IC3PEAK are at the centre of music as a progressive political vehicle in Russia, particularly in relation to sexual and gender politics. IC3PEAK adamantly thrive in spite of reactionary and authoritarian politics.