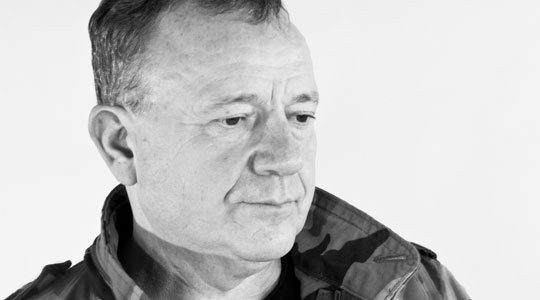 Scottish, Brooklyn-based electronic artist Drew McDowall is best known as one of the most influential forces behind the legendary bands Coil and Psychic TV. Outside of his collaborative efforts, McDowall is also active as a solo artist in New York's experimental music community.
McDowall was raised in Paisley, Scotland, just outside of Glasgow, and came of age during a time when the city was one of the most dangerous places in the world. Caught up in the prevalent gang culture of Scotland's destroyed industrial cityscape, McDowall found a way out of the daily violence as punk took hold of the UK's disenchanted youth. During the tumultuous 1980's, McDowall found himself in the ranks of P-Orridge's Psychic TV collective and began collaborating with former Throbbing Gristle creator Peter 'Sleazy' Christopherson and the enigmatic John Balance, who had been creating esoteric and progressive electronic music together under the banner of Coil. It was during these formative years with Coil that McDowall shifted from occasional contributor to austere full-time member. His impact on the band's sound was immediate and significant – the releases transformed from their previous avant-pop signature to a more complex and methodic electronic imprint accompanied by even more abstruse subject matter and abstract formulations. McDowell was instrumental in the creation of Time Machines, one of the most influential drone works of the last 20 years. He continued composing with Coil to create the band's two most lauded albums, Astral Disaster and Music to Play in the Dark, before leaving the project and his native home for the United States.
In 2011, alongside his friend and collaborator Tres Warren (Psychic Ills), McDowall resumed an exploration of meditative drone and abstract sound patterns in their project Compound Eye. He has also collaborated with Croatian Amor, Varg, Puce Mary, Marshstepper, and many others. McDowall released his debut solo album Collapse on Dais Records in September 2015 and the album Unnatural Channel in May 2017, using his signature ambient ebb and flow to engage with a contemporary world that emerges from the disintegration of various mental, physical, and emotional terrain. Most recently, he released The Third Helix via Dais, a record that unravels the DNA of hallucination.