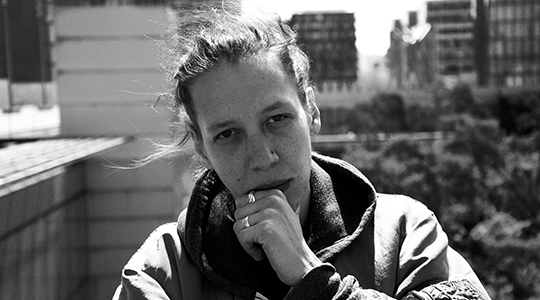 DJ AZF is a veteran of the French music and art scene, known for pushing boundaries in DJ selection. After years of DJing, promoting, and sometimes working as a bouncer for queer club nights, AZF has most recently taken up a monthly residency for Rinse FM France.

AZF's mixes center around industrial techno and EBM tempos, at times dragging hardcore and acid down to writhing 100 bpm dirges and at others, ramping up the tension with threshold testing speeds. In Paris, AZF is part of a 15-person strong crew called Qui Embrouille Qui, hosts of a three-day festival of underground techno at La Station - Gare des Mines. She also ran Jeudi Minuit at La Java, which welcomed producers such as Umwelt and Teki Latex.
Over the past two years DJ AZF has been broadcasting her fortnightly radio show for Rinse FM, inviting numerous guest producers and DJs including LUX18, Zadig, and CLFT. Her iconic presence in Paris' underground scene as a standard bearer for the DIY cause has demanded wider recognition, leading her to performing irresistible DJ sets around Europe, at festivals such as Nuits Sonores, Montreux Jazz, Dour Festival, Concrete, and Tresor.