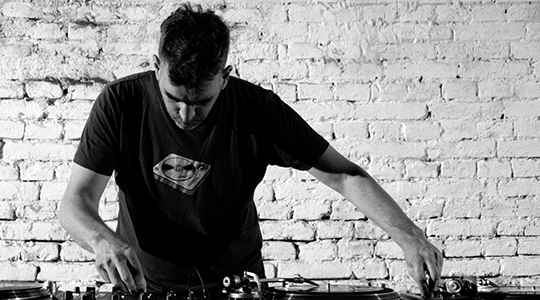 dieb13 is a turntablist, hacker, filmmaker, autodidact, composer, collageur, and conscientious copyright objector. Since 1997, dieb13 has played hundreds of shows in more than 30 countries, both as soloist as well as a member of various ensembles.

Real name Dieter Kovacic, dieb13 is also known as Takeshi Fumimoto, Echelon, Dieter Bohlen, and Dieb 14. In the late 80s, he began tweaking cassette players and turntables, before moving onto the computer. His work first emerged in the 90s, as the Viennese avant-garde scene was picking up momentum, with later output including a handful of solo releases, as well as collaborations with artists such as Boris Hauf, Werner Dafeldecker, Martin Siewert, Mats Gustafsson, and Christof Kurzmann.
To date, dieb13 has put out roughly 65 releases, on close to 35 labels. He has produced music for theatre, dance, opera, and film, as well as installations and exhibitions. dieb13 is the founder and operator of the internet platform klingt.org, and curates various festivals and concert series.
Kovacic has played in Kurzmann's Orchester 33 1/3, ©, Shabotinski, Radio Fractals, and Efzeg. In 1998, he contributed a track to Turntable Solos, a compilation released by the Japanese label Amoebic. Disguised as Takeshi Fumimoto, he resided amidst the likes of Otomo Yoshihide, Christian Marclay, and Merzbow. Kovacic also developed the kluppe looper, an open source recorder and loop-player.