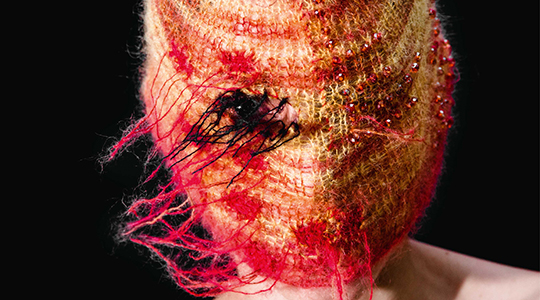 With roots in the Tunisian alternative music scene, Deena Abdelwahed works to inject a dose of innovation and experimentation into electronic dance music in Tunisia. Trained as a jazz singer and performer, Abedlwahed has made a name for herself as a singular producer, as evidenced by her Klabb EP and, more recently, debut album Khonnar.
Abdelwahed debuted her musical career while accompanying jazzman Fawzi Chekili and the group So Soulful as a funk and jazz singer – an influence still audible in her work today. In 2011, she joined in the World Full of Bass collective, thanks to Zied Meddeb Hamrouni, one of the first performers of experimental electronic music in Tunisia. She then continued performing across the Tunisian nightclub and festival circuit, as well as abroad, finding kindred spirits in NYC's Discwoman and Berlin's Room 4 Resistance.
In 2017, Abdelwahed released the acclaimed Klabb. The EP circles around ideas such as "imagining a timeline where global dance music was defined by Arab or African sounds, the importance of making club music that doesn't shy away from social crises, and how bringing together artists from diverse backgrounds at festivals [...] can authentically raise political consciousness." (The Fader)
More recently, French label InFiné Music released Abdelwahed's debut album, Khonnar – a manifesto for a generation that does not seek to please or to conform. The record continues her signature, adventurous blend of bass music, techno, and jazz-tinged vocals, and was named one of The Quietus' top records of 2018.