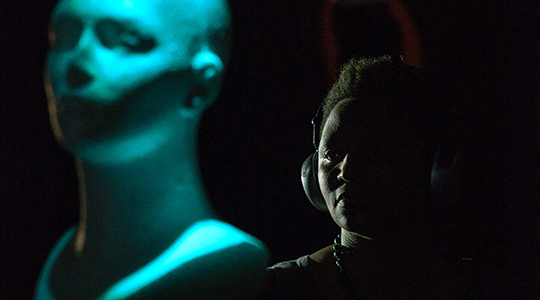 Rwanda-born, Belgium-raised Aurélie Nyirabikali Lierman is an independent radio producer, vocalist, composer, and artist. As one of this year's Radio Lab winners, Lierman will be premiering a new work for CTM 2019, entitled Sogokuru.
The piece researches contemporary forms of animism, and how they have managed to persist despite severe oppression throughout colonial history. These interests emerged from her own experiences, as she is directly inspired by several impactful encounters shared with her 108-year-old grandfather - one of the last living traditional Rwandan hunters and doctors. He witnessed the colonisation of Rwanda (by Germany and Belgium), in addition to the 1959 Rwandan Revolution, the 1994 genocide, post-war massacres of the 90s, and the country's present-day turmoil.
Lierman works frequently with field recordings taken from rural and urban spaces in contemporary East-Africa. Utilizing them in a practice that could be described as "Afrique Concréte," Lierman's work has been broadcasted, exhibited, and performed all over the world.
In addition to her solo practice, Lierman has released two albums with the British experimental noise project Nurse With Wound, and collaborated with visual artist Vincent Meessen.