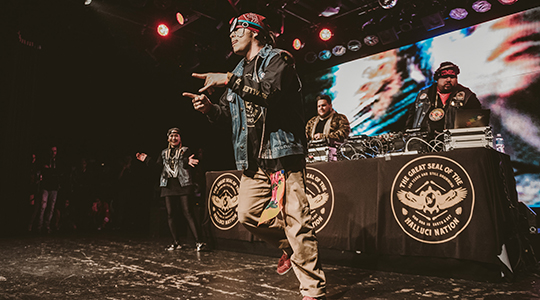 Hailing from Ontario, Canada, are A Tribe Called Red, a native producer and DJ crew blending elements of hip hop and dubstep with traditional pow wow vocal chanting and drumming.

Now comprised of Tim "2oolman" Hill (Mohawk, of the Six Nations of the Grand River), DJ NDN, and Ehren "Bear Witness" Thomas (of the Cayuga First Nation), ATCR are a testament to the enduring importance of indigenous culture.
Electric Pow Wow, a party formerly held at Ottawa's Club Babylon, marked the beginnings of ATCR. These nights brought a varied and vibrant crowd together, which was comprised of aboriginal Canadians including First Nations, Inuit and Métis people; music enthusiasts; activists; and anyone looking for a friendly, energetic party.
Since forming in 2008, A Tribe Called Red have established their voice in an essential renewed aboriginal rights movement known as Idle No More. Their most recent album, We Are the Halluci Nation, featured collaborations with artists such as rapper Yasiin Bey (formerly Mos Def) Polaris Prize-winning singers Tanya Tagaq and Lido Pimienta, and Manawan Atikamekw Nation drum group Black Bear. It also notably features the words and voice of John Trudell, an influential native activist of the 70s. The record demonstrates their passionate political commitments, and affinity for bass-heavy music.
A Tribe Called Red have appeared at the likes of AfroPunk and New Orleans Jazz Fest, and won the 2018 Juno Award for "Group of the Year."