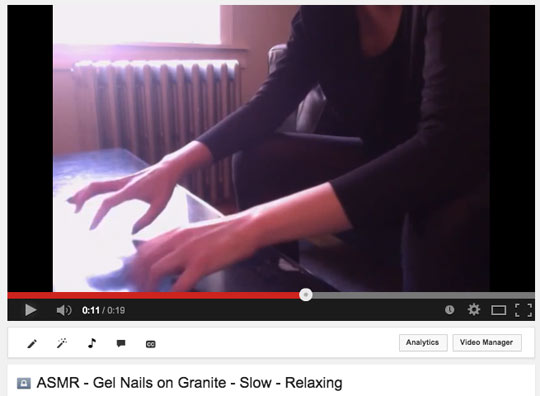 "Always Here for you: ASMR - Autonomous Sensory Meridian Response," is a work commissioned by CTM and Deutschlandradio Kultur through the CTM 2015 Radio Lab Call for works. Created by Berlin-based American Claire Tolan, a young artist and programmer exploring human-computer interaction, online communities (intimacy, privacy), and information structures and theory, the work explores the sounds of ASMR as recreated through audio surveillance techniques. The installation also features daily live ASMR sessions by Tolan or other performers.

ASMR is defined as a pleasurable "tingling" sensation in the scalp, spine, and peripheral regions of the body in response to cognitive stimuli such as visual, auditory, tactile or olfactory sensations. The phenomenon remains a pseudoscience with little or no scientific explanation of verified data to support it. It has, however, grown strong anecdotal evidence thanks to a considerable cult following and the development of a devoted community of followers who find a home – and post millions of "healing" videos – on YouTube. Recorded binaurally and varying from role-plays of hotel attendants and spa treatments, to affirmation videos and videos recording soft sounds such as whispering, nail tapping, or brushing, these clips mimic everyday situations of closeness and allow for relaxation and sharing of personal experiences. But what happens to the sounds and intimacy of these video encounters when the visual element is removed? Is the soothing tingling experience purely sonic, or some way dependent upon the visual cues in the videos?
On a first level, Tolan proposes an exploration of the interplay between sight and sound, inviting the audience to compare their ASMR viewing experience with real versus recreated sounds. Audio waves cause objects to vibrate at a frequency that is not perceived by the human eye. By recording ASMR videos with a simple point-and-shoot camera to capture these movements, then using algorithms developed by MIT to process them back into sound, Tolan aims to test the effect of short-circuiting the visual and aural. In a further experiment, sound from ASMR role-plays will be detected by a laser microphone and recreated, testing whether ASMR can be provoked despite a slightly incongruent soundtrack. Through her use of the laser microphone and audio extraction algorithms, Tolan opens the door to a second level of investigation into surveillance technology – for which radio has long been a primary medium both as enabler and circumventer.
By connecting ASMR to the latest developments in acoustic surveillance technologies and computation, Claire Tolan renders visible the workings, potentials and dangers of being able to control and analyze the frequency domain, which serve as a basis of all forms of human communication and perception. She draws possible future scenarios that are most timely to address. On another level, her proposal investigates the complex intertwinement of direct physiological effects of frequencies and the psychological effects of narratives, role-playing, and intimacy, and on the possibilities of new forms of intimacy mediated by communication technologies. This makes her proposal of high interest not only for live presentation but also for radio, as it allows her to probe and advance radio's potential for such forms of closeness.
Claire Tolan is an artist and programmer based in Berlin, who focuses exploring human-computer interaction, online communities (intimacy, privacy), and information structures and theory.
Born 1986 in Ohio, USA, Tolan studied Literature at the University of Chicago and Archival Science and Human-Computer Interaction at the University of Michigan. She has worked in nonprofit publishing ventures and archives across the United States, including the Newberry Library, the Poetry Foundation, Copper Canyon Press, Early English Books Online, and the Yosemite National Park Archives. Tolan moved to Berlin in 2013 to work as a web developer with the Tactical Technology Collective, an organisation that helps political activists develop strategies for data manipulation and management.
In 2014, Tolan created "You're Worth It," a show on Berlin Community Radio that explores the sounds and culture of ASMR, Autonomous Sensory Meridian Response. The show has led to collaborations with several artists, including Holly Herndon and d3signbur3au.