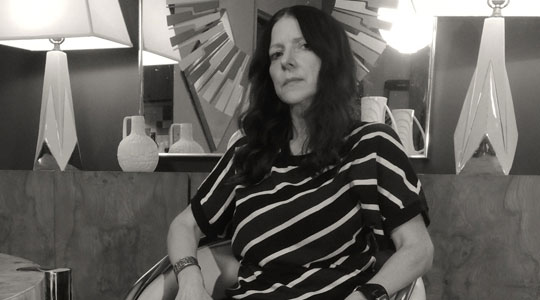 Rose Kallal is a NYC based visual and sound artist. Her performances combine immersive multiple 16mm film loop projections along with live modular synthesis and percussion elements. Her work has been presented internationally at many venues and galleries such as Participant Inc (NYC), Ramiken Crucible gallery (NYC), MoMA PS1 (Queens NY), Contemporary Museum of Art Bologna (Italy), Spike Island Art Center (Bristol UK), festivals include Sonic Acts (Amsterdam NL), Performa (NYC).
Kallal has collaborated with various artists including Robert AA Lowe (Lichens), Joe Denardo (Growing), James Ginzburg (Emptyset), and Mark O Pilkington (Urthona). Her latest audiovisual collaboration with the latter, titled "Aldebaran," sees the duo use modular synthesizers to build a semi-improvised soundtrack around 'Aldebaran', a multiple 16mm projection by Kallal. Four different film loops cycle at varying speeds, creating a hypnotic, nonlinear flow of repeating patterns, motifs and animations, sometimes synchronous, sometimes dissonant, that both reflect and shape the constantly shifting, deconstructive and recombinatory nature of the music.
Rose's own experimental sound compositions include the manipulation of modular synthesizers and drum, bringing antiquated tools into a modern perspective: "She revisits the past to modify the present and chart a new future." (New York Times). Her music has been released on UK electronics label We Can Elude Control run by Emptyset's Paul Purgas.