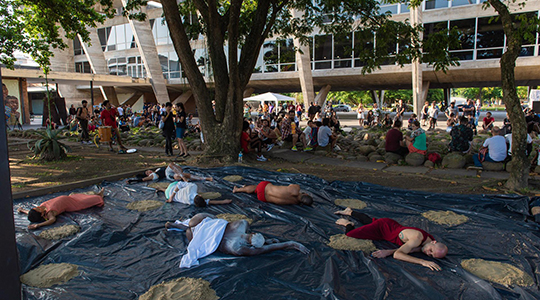 A performative series in three acts: Rio de Janeiro / Berlin / Rennes. Mixed media, 2019 – 2020.
"The Ceremony" brings together three artists from different backgrounds. They create a new space in which to employ their own respective tools and methods. A nebulous work in progress featuring performance, creative lab, and multidisciplinary installation, the first iteration took place in December 2019 in Rio de Janeiro, using collective performance as a means of thinking through the complexities of immigration, identity, community, fluidity, and space. The CTM showing is accompanied by a performance at the exhibition opening, and the presentation of various relevant artefacts. Their exploration of migration, communities, and identities will continue in Rennes in October 2020.
The collaborative, performative proposition is conceptualised and led by sound, performance and installation artist Zorka Wollny; "techno hacker" NSDOS, who has an active interest in the intersection of sound and movement; and dancer Loïc Koutana, also known as part of brazilian sensation Teto Preto and one of the creators of São Paolo's party collective Mamba Negra.