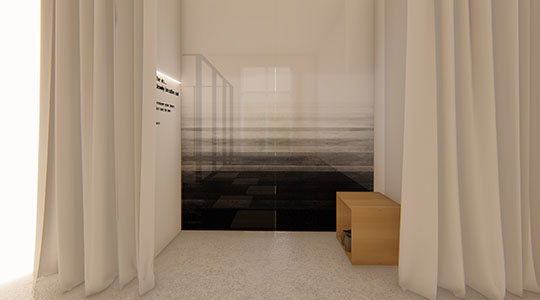 Installation, 2019. With interaction and light design by Beer van Geer; architecture by Tena Lazerevic; sound by Yota Morimoto.
"Ademruimte" (breathing room) is a new form of feedback architecture that brings together specialised designers, health workers, urbanists, and architects to design a public space for rest, contemplation, and silence—something that is missing in modern cities. The installation focuses on interactions with breathing, creating an engaging spatial experience and opening up a non-sacral space for modern worldliness through a combination of sensor technology, interior design, architectecture, light, and sound.
Calmspaces was founded in 2018 by architect Tena Lazarevic and interactivity/digital media designer Beer van Geer. The collective and initiative focuses on spatial atmospheric design. Through sensorial stimuli such as sound, light, smell, and touch, and sensor-based technology like biofeedback, they create spatial experiences to calm the body and mind.