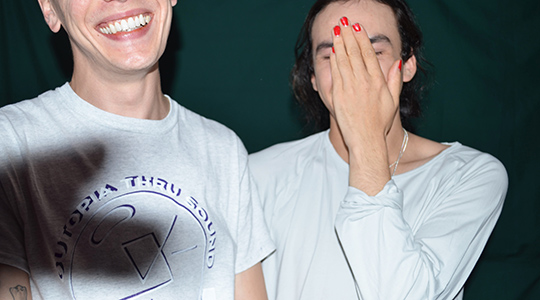 Punk techno stars Giant Swan have risen to notoriety thanks to their acerbic marriage of energised, aggressive dance music; quaking bass; and hypnotic electronic noise. Comprised of Harry Wright (aka Mun Sing) and Robin Stewart, the duo recently released their debut LP via their own imprint, Keck.
In Wright's words, their self-titled album "is just the name of a never-ending story…A statement that changes with each recipient, centred around tolerance, inclusion, self-sufficiency and TRUST. Oh, and also weed and beats. It's about getting stoned and losing ourselves to each other's consciousness." The pair are celebrating the release with a UK tour, accompanied by the formidable likes of Dis Fig, Rian Treanor, and Ossia.
The Bristolian duo have been making music together for over a decade, first meeting and bonding over skateboarding and graffiti as 11-year olds. On their process, they told Resident Advisor that they're able to enjoy the process of working together; "When the other person's done something, we're like, 'You're my best mate. I love you," Stewart said. The sentiment manifests in the buoyant, infectious energy of their live performances.
Giant Swan's earlier releases have found homes on labels such as Timedance, Mannequin, and Whities. 2017's "IFTLOYL" soundtracked Raf Simons' 2019 show at Paris Men's Fashion Week. Together, they have descended upon stages at Shenzhen's OIL, Bristol's Lakota, and Amsterdam's De School.