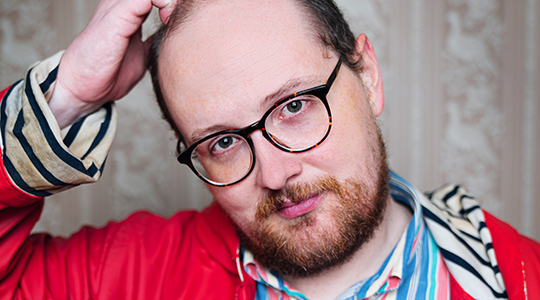 Dan Deacon is an American composer from Baltimore, Maryland. For nearly over 20 years, Deacon has been a consistent part of electronic music, bridging the gap between contemporary classical and more abrasive, gig-ready electro. His work has developed from touring solo with an array of machines to working with established chamber ensembles and composing film soundtracks.
A New York native, Deacon moved to Baltimore in 2004 and established the music and art collective Wham City, along with artists such as Jimmy Joe Roche (Ultimate Reality) and Alan Resnick (Live Forever Now As You Are With Alan Resnick, alantutorial). There he produced his breakthrough album Spiderman Of The Rings in 2007, which was ranked in Pitchfork's top albums of the year. Following album Bromst (2009) saw Deacon expand his palette towards live instrumentation, using MIDI linked to a player piano in order to perform scores that were unplayable by a human keyboardist.
In 2011 Dan Deacon began working with an expanded lineup and various ensembles, including a premier of "Ghostbuster Cook: Origin Of The Riddler" with So Percussion, which was performed at Merkin Concert Hall. 2012's America, a reflection on the beauty and frustration of his home country, featured 25 orchestral and experimental musicians, further adding to his compositional credentials. The more pared down Gliss Riffer followed in 2015. Since, Deacon has written numerous soundtracks for documentaries and shorts, including Time Trial (2017) and Rat Film (2016), and contributed to the soundtrack of Frances Ford Coppola's Twixt in 2011.
2020 sees Deacon release his fifth solo album, Mystic Familiar. Taking inspiration from Brian Eno's Oblique Strategies and Catching The Big Fish by David Lynch, Mystic Familiar is a collection of songs that explore Deacon's existential curiosity, joy, and doubts. While seeking philosophical depths and constantly self-improvement, Mystic Familiar maintains Deacon's familiar absurdity, playfulness, and ecstasy which has remained a constant throughout his work.