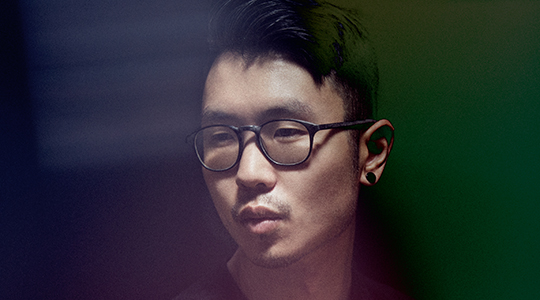 Aquarian makes raw, arresting music aimed squarely at the dancefloor. His take on hybrid, mutated strains of rave music is shaped by the sounds of London, Detroit, and Berlin. His debut full-length, titled The Snake That Eats Itself, is set for release this January on Bedouin. With Deapmash, he is AQXDM; the pair recently debuted on Houndstooth with new EP, Infrared.
The Canadian-born, Berlin-based artist broke out with a trio of records for UNO NYC in 2012. Since, he has released solo records through his own culinary-rave imprint Hanger Management. 2017's Hamburglar Helper / Snack ID is inky yet playful—a hallmark of his output. The label helpfully states: "A smoky mash of claps and toms form the backbone of ["Hamburglar Helper,"] while crisp skinned and finely julienned drum breaks scatter over lucious, fatty kicks."
In 2018, he teamed up with Deapmash as AQXDM to release the unrelenting Aegis via Bedouin. More recently, they shared Infrared, a continuation of their experiments with blistering breakbeats and rave dreams.
Recently, Aquarian's high energy and eclectic mixing style has found its way to Berghain, De School, Tresor, and Unsound, with a standout mix for Dekmantel's podcast series. Aquarian's DJ sets venture through sinister breaks, feverish jungle, grimey drum and bass, and on through uncharted territory. His solo and collaborative releases have meanwhile drawn support from from Aphex Twin, Nina Kraviz, Call Super, Objekt, Avalon Emerson, and more. 2020 will see the release of his debut LP, which expands on his stylistic hallmarks to include industrial flecked IDM, drone, and pop, refracted through a cinematic lens.
---
Aquarian is supported by SHAPE, which is cofunded by the Creative Europe programme of the European Union.