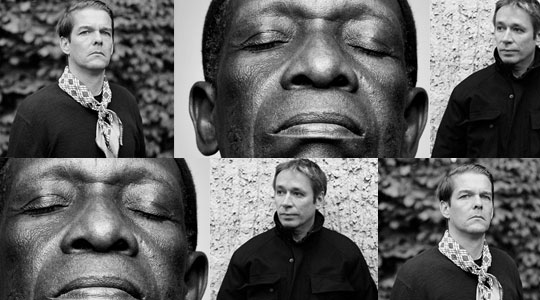 Moritz von Oswald's long time collaborator Max Loderbauer and Nigerian drumming legend Tony Allen round out the latest configuration of the critically acclaimed Moritz von Oswald Trio.
Loderbauer has been a constant (if somewhat reticent) fixture in the serious electronic music scene for decades. First as a member of influential 90s duo Sun Electric, then in his collaborative projects with Tobias Freund (as nsi.) and Ricardo Villalobos (remixing the canonical ECM catalogue), and most recently with his debut solo album Transparenz (2013) Loderbauer has established himself as a pioneering force in sound design and avant-garde music production.
The fresh dimension in this brand new incarnation of the Trio is provided by Tony Allen. Customarily referred to as the inventor of Afrobeat and described by Brian Eno as "perhaps the greatest drummer who ever lived", it would be hard to find another musician who has exerted such a powerful and consistent influence on the direction of his chosen genre. Uniting these two very different musical personalities in the service of a common creative goal is, of course, Moritz von Oswald: longtime master of electronic experimentalism and technical exactitude, von Oswald is firmly entrenched in the modern history of forward-thinking music. The latest edition of the Trio provides the ideal platform for von Oswald to explore new dimensions in live improvisation and instrumentalisation in the august company of two of his musical peers.