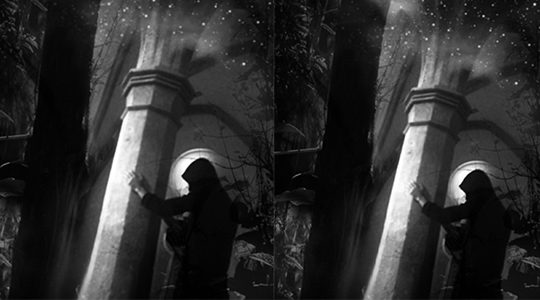 Kassel Jaeger is the pseudonym of Franco-Swiss composer and electroacoustic musician François Bonnet. Based in Paris, he is a member of INA-GRM where he works as a sound engineer. He is also a writer, and a member of the collective member of the collective Ende Wieder.
Kassel Jaeger's works are a complex balance between concrète experimentalism, ambient noise, and electroacoustic improv. He has released several well-received albums on various labels including the boutique CD imprint, Unfathomless, the Italian experimental label, Senufo Editions, as well as Editions Mego where his fifth album, Deltas, was released on vinyl. In Deltas, Jaeger explores geological associations with sound, a theme he expanded in an installation for the exhibition Multinatural Histories at the Harvard Museum of Natural History. He used eight channels in the mineral room to make mineral resonances audible. He also runs the tiny Antisolar label producing small-run endless loop cassettes tapes in series.
Bonnet was born in in Limoges in 1981, and has worked at INA-GRM (Groupe de recherches musicales of the National Audiovisual Institute) since 2007. He published a book about sound and listening, Les Mots et les sons: un archipel sonore (Szendy Editions) in 2012, and regularly contributes articles to periodicals such as The Other Music, Books Arts and Sciences of Art, Vibrofiles and Les Cahiers Louis Lumière. He teaches at the Université Paris 1 Panthéon-Sorbonne.