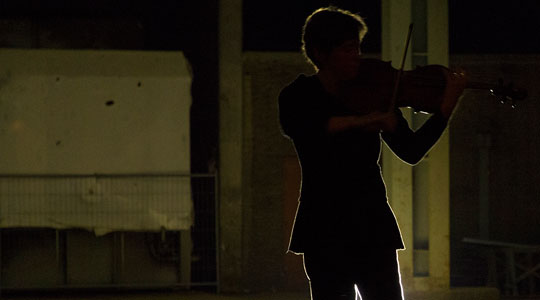 For CTM 2014, Anne Wellmer and Julia Eckhardt come together in the presentation of green piece | memory maze: a composition for viola, feedback, laptop, and light, written by Wellmer for Eckhardt as part of the "DoUndo/recycling G" project by Q-O2 in Brussels.
Anne Wellmer (DE/NL) is a media artist and composer, performer, and improviser of electronic music based in The Hague. She studied composition with Alvin Lucier at Wesleyan University and at the Institute of Sonology in Den Haag. Her work traverses tape music, improvisation, installation, and performance, in which feedback, electromagnetic disturbances, and barely audible acoustic phenomena are essential aspects. Among her numerous collaborations, her recent installation lichtklangphonogramm is based on historical audio recordings from the Berliner Phonogramm-Archiv for reinvented and adapted mechanical audio players and optical projectors.
Julia Eckhardt (DE/BR) is a viola player in the field of composed and improvised contemporary music and a founding member and director of the Q-O2 workspace. She studied viola in Rotterdam and Brussels, and has worked with several chamber music ensembles in Berlin and Brussels. She has collaborated with many notable artists, and is a member of the conceptual music group Incidental Music. She lives and works in Brussels, teaching and lecturing at Lemmens Institut (conservatory of Leuven), Transmedia (postgraduate program of Sint-Lukas Brussels University College of Art & Design) and La Cambre (Ecole Nationale Supérieure des Arts Visuels).