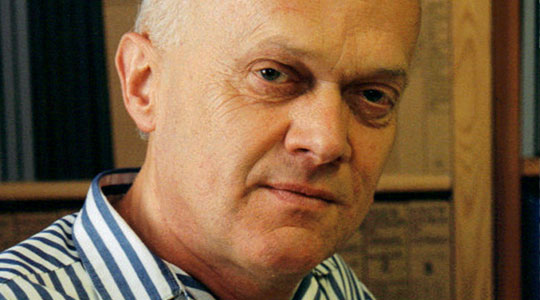 Ákos Rózmann (1939-2005) was a Hungarian-Swedish modernist composer and organist, notable for his epic electroacoustic compositions inspired by Buddhist and Catholic liturgy.
Rózmann discovered electroacoustic music while pursuing a postgraduate degree in composition at Stockholm's Royal College of Music and was awarded at the Bourges Concours International de Musique Électroacoustique for his first experiment, Impulsioni, in 1976. The medium would come to define the rest of Rózmann's life as a composer of evocative, surrealist soundscapes. An uncompromising visionary and devotee to his work process, the existential depth and drama of Rózmann's long works emerged out of decades of industry at the Elektronmusikstudion EMS Stockholm and his own studio in the basement of the Catholic Cathedral, where he played as the resident organist.
His second piece, the six-hour Tolv stationer (Twelve Stations), was composed over a period of 23 years, integrating acoustic organ into synthetic material and premiered at the Stockholm Culture House. While almost all of his nearly thirty compositions were performed in Sweden in his lifetime, only one was played in public concert in his native country, Hungary. Trumpetmusette was composed for the Budapest Electroacoustic Music Festival of the Hungarian Radio, premiered there in 1994.
Rózmann lived out his later years in the Stockholm suburb of Skogas, where he completed his final work, Orgelstycke nr III/a (Organ Piece Nr. III/a) and saw his biggest concert: Mässa (Mass), composed between 1989 and 2004 and performed over five days at the Stockholm New Music festival. He was diagnosed with and died of pancreatic cancer one year later. A remastered version of Rózmann's first large-scale masterpiece and dreamscape, Bilder inför drömmen och döden ("Images of Dream and Death"), recorded on a Buchla synthesizer between 1974 and 1977, was released as a triple LP on Editions Mego's Ideologic Organ imprint in 2013 in an effort to vindicate and share the vision of this electronic music luminary.