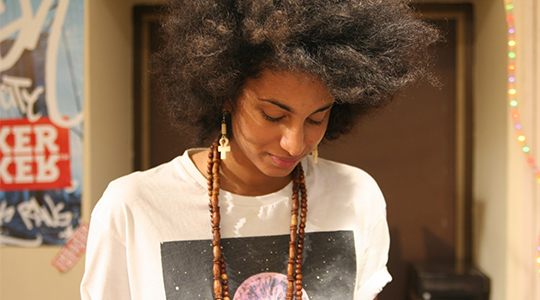 Sarah Farina came up as a DJ in the midst of an incipient breakbeat and future bass insurgency in Berlin. Initially supported by DJ duo Sick Girls and the Through My Speakers collective, she now sounds out her own alternative to the four-to-the-floor techno that has long dominated the city's club scene.
Farina's multi-chromatic, guerilla DJ sets, mixing jungle, juke, hip hop, and UK garage and funky, are driven by futuristic breakbeats and formidable basslines and have been broadcast via Red Bull Music Academy Radio Berlin, Groove Magazine, and Boiler Room Berlin. Over the past several years, she has supported Hyperdub label head Kode9 with Cooly G at Berlin's now-defunct Horst Kreuzberg club and played alongside established artists such as Lunice, DJ Rashad, Scratcha DVA, Disclosure at Trouw Amsterdam, and with drum and bass producer Darren White aka dBridge at the decennial anniversary of Exit Records alongside Om Unit and SP:MC.
She is also a member of the Through My Speakers collective, an international network of music addicts, DJs, and musicians predicated on the gospel of positive vibes that hosts diverse events throughout the year.