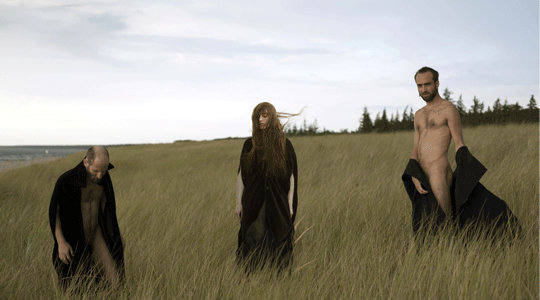 Reliq is a Berlin-based avant-doom unit comprising grayl [DE], Niko Lfo [FR], and Xorzyzt [US]. Founded with former guitarist Valquire in 2009, the collective draws from the dark matter of an unraveling psyche, crafting simultaneously transcendent and suffocating sound worlds swathed in the hallucinatory haze of a schizophrenic's fever dreams.
November 2011 saw the independent release of their self-titled debut album, and shortly after vocalist grayl and drummer Xorzyzt joined with Jonny Teardrop to form ritual drone beast, Black Magik Ensemble. In 2012, the pair teamed up with guitarist Niko Lfo to create a new mythology for the band, and performed at CTM Festival in 2013. Their score for Claire Kurylowski's short film, Greed, was released shortly thereafter, in February 2013. Their track "Cutthroat" was featured on Modern Movement's book and CD compilation, out on aufnahme + wiedergabe.
reliq returned to aufnahme + wiedergabe to released their first EP, Empire of Broken Signs, in May 2014. Following intensive recording sessions in Bristol that same year, the group is currently preparing the release of a new single + video this fall, in anticipation of their first full-length album.