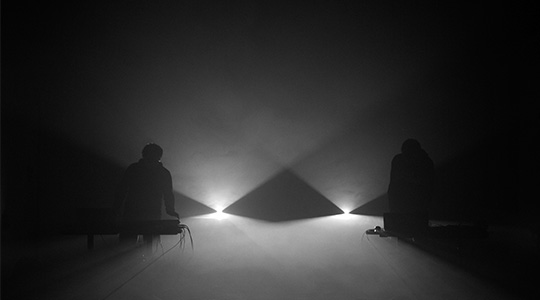 The initial full-body paralysis induced by the soporific industrials of Belgian-Italian duo Lumisokea (Finnish for 'snow-blind') soon gives way to mesmeric, hyper-attuned listening experiences.
Koenraad Ecker and Andrea Taeggi came together as an improvisational pair in 2008, while studying at Amsterdam's music conservatory. The duo combine acoustic instruments with analog hardware to craft deeply nuanced, grayscale sound environments.
For their live performances, Lumisokea channel an interest in inducing listener trance states via a new visual project, developed in collaboration with AntiVJ video artist Yannick Jacquet (Legoman), which aims to dilate the audience's experience of physical space through the projection of abstract, geometrical light beams into a pitch black room suffused with smoke. They have performed at festivals such as Rewire (NL), Bozar (BE), and CTM Festival (Berlin).
The duo has released two LPs on independent Dutch label Eat Concrete, Automatons and Selva (2011, 2012), and were featured on its Benefit for the Psycho In-Active compilation in 2013. Their first EP for Opal Tapes that same year, Apophenia, was developed around reel-to-reel tape treatments and cyclical rhythmic schemes, and they were also included in the label's No Lotion compilation. 2014's Eavesdropping on Pianists (Eat Concrete) was based on recordings they made at the "Generation Z: Renoise" exhibition during CTM festival 2014 using Vladimir Popov's early 20 century Russian "Noise Instruments".
The duo is currently finishing up a new release which will be out on Opal Tapes later in 2015.