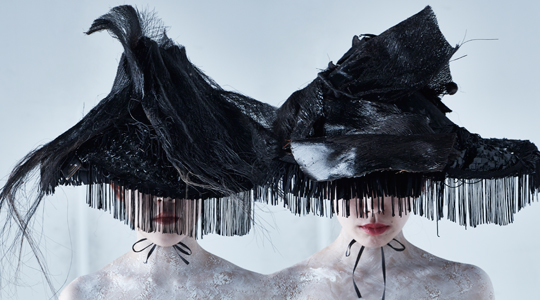 When Japanese duo group A was formed in 2012 by Tommi Tokyo (synthesizer, vocals, percussion) and Sayaka Botanic (violin, synthesizer, cassette tapes), their shows came as a shock to most spectators.
While their mixture of synth heavy minimal wave, avant noise, striking visuals and performance art carried the very breath of early industrial pioneers such as Throbbing Gristle or Cabaret Voltaire, the duo has since evolved into a beast of its own. Their self-produced 1st album, A, was released in 2012 and was featured in magazines such as NYLON Japan and Vice. It was soon to be followed by INITIATION in 2013.
Since then the duo has been sharing bills with artists such as Acid Mother Temple, Merzbow, Nisennenmondai, Phew, and Melt Banana and headlined the Urban Nomad Film Festival in Taiwan, and the Art Book Fair 2014 in Tokyo. 2015 sees group A not only undertake their first full on European tour including festivals such as TodaysArt, Soy and RIAM, but also the release of their brand new album [ 70+A= ].